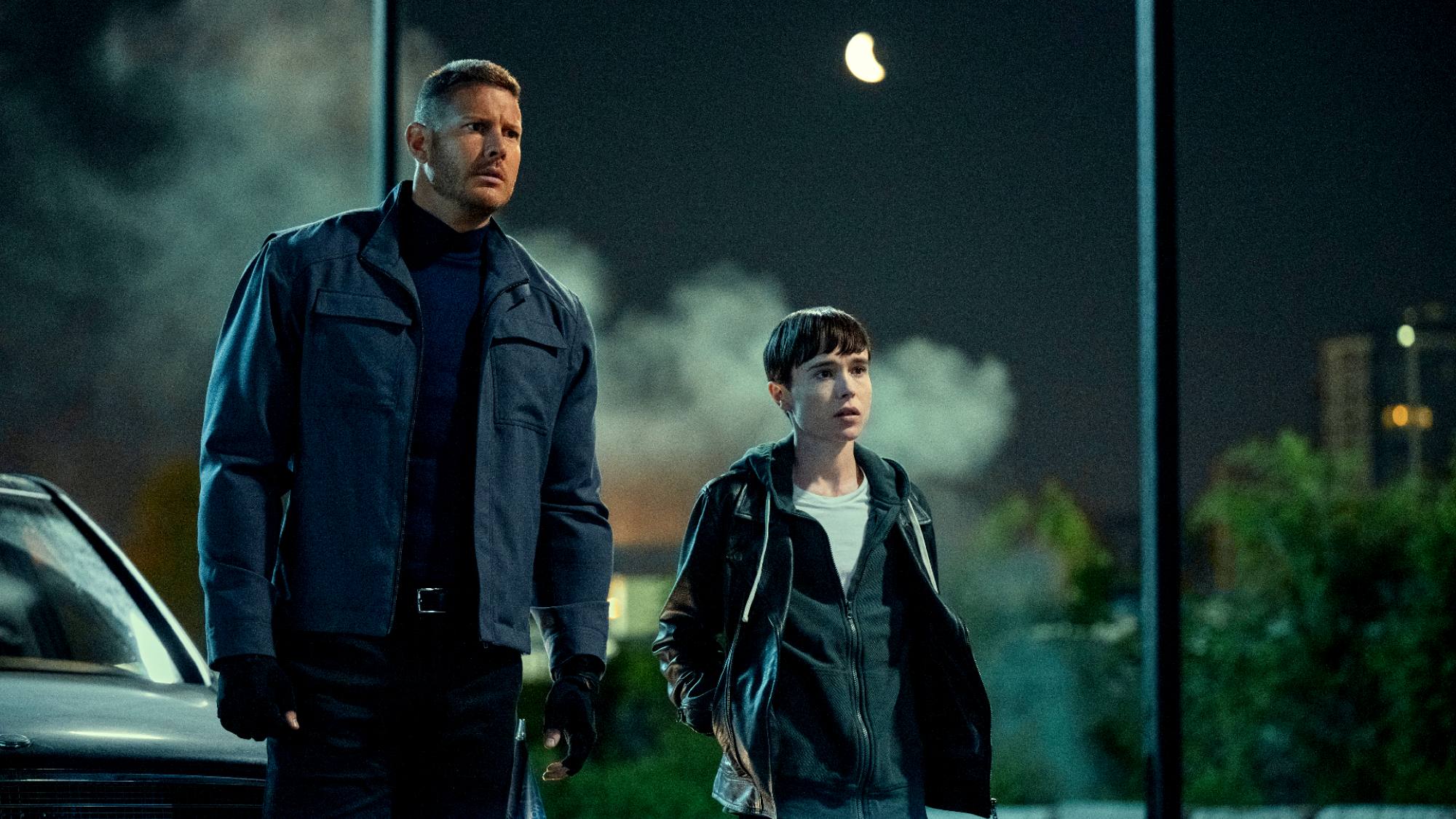 June 2022 brings a ton of latest TV displays and flicks to broadcast, cable and streaming products and services like Netflix, Disney Plus, HBO Max, Amazon Prime Video and others.
The lineup is led by way of the go back of fan favorites Umbrella Academy season 3, For All Mankind season 3 and Only Murders within the Building season 2.
Plus, motion pictures proceed to debut on streaming, together with Spiderhead and The Man From Toronto.
And past this month, there is a complete host of alternative giant TV displays coming in 2022, from Lord of the Rings to House of the Dragon. Don't overlook there are a host extra renewed TV displays are on their manner later this yr as neatly.
Check out the very complete agenda of latest TV displays in June 2022, and in addition do not leave out our selections of the most efficient new motion pictures to look at this week throughout all of the best streaming products and services.
New TV display premieres and finales to look at in June 2022
All occasions Eastern Time. Our best selections in daring
WEDNESDAY, JUNE 1
In the Vault – season 1 entire (3 a.m, Crackle)
My Dead Dad – film (3 a.m., HBO Max)
City of Queens – documentary (3 a.m., Peacock)
South Park: The Streaming Wars – particular (3 a.m, Paramount Plus)
Sistas – season 4 summer season premiere (8 p.m., BET)
THURSDAY, JUNE 2
The Croods: Family Tree – season 3 entire (12 a.m., Hulu)
The Orville – season 3 premiere (12 a.m., Hulu)
Borgen: Power & Glory – season 1 entire (3 a.m., Netflix)
Hacks – season 2 finale (3 a.m., HBO Max)
Top Chef – season 19 finale (8 p.m., Bravo)
FRIDAY, JUNE 3
The Boys – season 3 premiere (12 a.m., Prime Video)
Fire Island – film (12 a.m., Hulu)
Physical – season 2 premiere (12 a.m., Hulu)
Shining Girls – season 1 finale (12 a.m., Apple TV Plus)
Floor Is Lava – season 2 entire (3 a.m., Netflix)
Hollywood Stargirl – film (3 a.m., Disney Plus)
Interceptor – film (3 a.m., Netflix)
The Northman – film (3 a.m., Peacock)
Surviving Summer – season 1 entire (3 a.m., Netflix)
P-Valley – season 2 premiere (9 p.m., Starz)
SATURDAY, JUNE 4
Party on the Palace – particular (8 p.m., ABC)
SUNDAY, JUNE 5
2022 MTV Movie & TV Awards – particular (8 p.m., MTV)
MONDAY, JUNE 6
Bill Burr Presents: Friends Who Kill – particular (3 a.m., Netflix)
American Ninja Warrior – season 14 premiere (8 p.m., NBC)
The Family Chantel – season 14 premiere (8 p.m., TLC)
Roswell, New Mexico – season 4 premiere (8 p.m., The CW)
Irma Vep – season 1 premiere (9 p.m., HBO)
In the Dark – season 4 premiere (9 p.m., The CW)
Miz and Mrs. – season 3 premiere (10 p.m., USA)
TUESDAY, JUNE 7
That's My Time With David Letterman – season 1 entire (3 a.m., Netflix)
All Rise – season 3 premiere (8 p.m., OWN)
WEDNESDAY, JUNE 8
Hustle – film (3 a.m., Netflix)
Keep Sweet: Pray and Obey – season 1 entire (3 a.m., Netflix)
Ms. Marvel – season 1 premiere (3 a.m., Disney Plus)
THURSDAY, JUNE 9
Backstage With Katherine Ryan – season 1 entire (12 a.m., Prime Video)
Girls5eva – season 2 finale (3 a.m., Peacock)
Queer as Folk – season 1 entire (3 a.m., Peacock)
The Staircase – season 1 finale (3 a.m., HBO Max)
Stand Out: An LGBTQ+ Celebration – particular (3 a.m., Netflix)
FRIDAY, JUNE 10
Boundless – season 1 entire (12 a.m., Prime Video)
The Essex Serpent – season 1 finale (12 a.m., Apple TV Plus)
Fairfax – season 2 entire (12 a.m., Prime Video)
For All Mankind – season 3 premiere (12 a.m., Apple TV Plus)
Hollywood Houselift With Jeff Lewis – season 1 premiere (12 a.m., Freevee)
Lovely Little Farm – season 1 premiere (12 a.m., Apple TV Plus)
Dirty Daddy: The Bob Saget Tribute – particular (3 a.m., Netflix)
First Kill – season 1 entire (3 a.m., Netflix)
Peaky Blinders – season 6 entire (3 a.m., Netflix)
Charmed – season 4 finale (8 p.m., The CW)
SATURDAY, JUNE 11
Amy Schumer's Parental Advisory – particular (3 a.m., Netflix)
SUNDAY, JUNE 12
Evil – season 3 premiere (3 a.m., Paramount Plus)
The seventy fifth Annual Tony Awards – particular (8 p.m., CBS/Paramount Plus)
Becoming Elizabeth (9 p.m., Starz)
Dark Winds – season 1 premiere (9 p.m., AMC)
Barry – season 3 finale (10 p.m., HBO)
MONDAY, JUNE 13
Pete Davidson Presents: The Best Friends – particular (3 a.m., Netflix)
Intervention – season 24 premiere (9 p.m., A&E)
Gentleman Jack – season 2 finale (10 p.m., HBO)
TUESDAY, JUNE 14
Dateline: The Last Day – season 1 premiere (3 a.m., Peacock)
Halftime – documentary (3 a.m., Netflix)
Jane Fonda & Lily Tomlin: Ladies Night Live – particular (3 a.m., Netflix)
Mayans M.C. – season 4 finale (10 p.m., FX)
WEDNESDAY, JUNE 15
Love, Victor – collection finale (12 a.m., Hulu)
God's Favorite Idiot – season 1 entire (3 a.m., Netflix)
Iron Chef: Quest for an Iron Legend – season 1 entire (3 a.m., Netflix)
THURSDAY, JUNE 16
Father of the Bride – film (3 a.m., HBO Max)
The Kardashians – season 1 finale (3 a.m., Hulu)
The Offer – season 1 finale (3 a.m., Paramount Plus)
Players – season 1 premiere (3 a.m., Paramount Plus)
Rutherford Falls – season 2 entire (3 a.m., Peacock)
Snoop Dogg's F*cn Around Comedy Special (3 a.m., Netflix)
Legacies – season 4 finale (9 p.m., The CW)
The Old Man – season 1 premiere (10 p.m., FX)
FRIDAY, JUNE 17
Cha Cha Real Smooth – film (12 a.m., Apple TV Plus)
Good Luck to You, Leo Grande – film (12 a.m., Hulu)
Home – season 2 entire (12 a.m., Apple TV Plus)
The Lake – season 1 premiere (12 a.m., Prime Video)
The Summer I Turned Pretty – season 1 premiere (12 a.m., Prime Video)
Tehran – season 2 finale (12 a.m., Apple TV Plus)
Chrissy's Court – season 2 premiere (3 a.m., The Roku Channel)
Jerry and Marge Go Large – film (3 a.m., Paramount Plus)
The Martha Mitchell Effect – documentary (3 a.m., Netflix)
Spiderhead – film (3 a.m., Netflix)
SUNDAY, JUNE 19
Civil: Ben Crump – documentary (3 a.m., Netflix)
I Love That For You – season 1 finale (8:30 p.m., Showtime)
Animal Kingdom – season 6 premiere (9 p.m., TNT)
The First Lady – season 1 finale (9 p.m., Showtime)
The Time Traveler's Wife – season 1 finale (10 p.m., HBO)
MONDAY, JUNE 20
Mind Over Murder – season 1 premiere (10 p.m., HBO)
TUESDAY, JUNE 21
Joel Kim Booster: Psychosexual – particular (3 a.m., Netflix)
Motherland: Fort Salem – season 3 premiere (10 p.m., Freeform)
WEDNESDAY, JUNE 22
Doctor Strange within the Multiverse of Madness – film (3 a.m., Disney Plus)
The Hidden Lives of Pets – season 1 entire (3 a.m., Netflix)
Obi-Wan Kenobi – season 1 finale (3 a.m., Disney Plus)
The Umbrella Academy – season 3 entire (3 a.m., Netflix)
THURSDAY, JUNE 23
The Bear – season 1 entire (12 a.m., FX on Hulu)
Beavis and Butthead Do the Universe – film (3 a.m., Paramount Plus)
Best of the Fest – particular (3 a.m., Netflix)
Little Ellen – season 3 premiere (3 a.m., HBO Max)
Menudo: Forever Young – season 1 entire (3 a.m., HBO Max)
The Real Housewives Ultimate Girls Trip – season 2 premiere (3 a.m., Peacock)
Jersey Shore Family Vacation – season 5 summer season premiere (8 p.m., MTV)
Walker – season 2 finale (8 p.m., The CW)
Chrisley Knows Best – season 9 summer season premiere (9 p.m., USA)
Southern Charm – season 8 premiere (9 p.m., Bravo)
FRIDAY, JUNE 24
Chloe – season 1 entire (12 a.m., Prime Video)
Loot – season 1 premiere (12 a.m., Apple TV Plus)
Now and Then – season 1 finale (12 a.m., Apple TV Plus)
The One That Got Away – season 1 premiere (12 a.m., Prime Video)
Wildhood – film (12 a.m., Hulu)
The Man From Toronto – film (3 a.m., Netflix)
Man vs Bee – season 1 entire (3 a.m., Netflix)
Money Heist: Korea – Joint Economic Area – season 1 entire (3 a.m., Netflix)
Rise – film (3 a.m., Disney Plus)
Trevor: The Musical – film (3 a.m., Disney Plus)
Would It Kill You to Laugh? Starring Kate Berlant and John Early – particular (3 a.m., Peacock)
The forty ninth Annual Daytime Emmy Awards – particular (8 p.m., CBS)
SUNDAY, JUNE 26
2022 BET Awards – particular (8 p.m., BET)
The Chi – season 5 premiere (9 p.m., Showtime)
Westworld – season 4 premiere (9 p.m., HBO)
Who Is Ghislaine Maxwell? – season 1 premiere (9 p.m. Starz)
TUESDAY, JUNE 28
Only Murders within the Building – season 2 premiere (12 a.m., Hulu)
Cristela Alonso: Middle Classy – particular (3 a.m., Netflix)
Superman & Lois – season 2 finale (8 p.m., The CW)
WEDNESDAY, JUNE 29
All Star Shore – season 1 premiere (3 a.m., Paramount Plus)
Beauty – film (3 a.m., Netflix)
The Upshaws – season 2 entire (3 a.m., Netflix)
The Flash – season 8 finale (8 p.m., The CW)
THURSDAY, JUNE 30
Madagascar: A Little Wild – collection finale (12 a.m., Hulu)
Sharkdog – season 2 entire (3 a.m., Netflix)