Buying your Gamer mouse is probably the most important thing, after the PC itself. Having a good mouse for gaming provides real advantages in terms of response time, dpi, ergonomics and glide. No more bad excuses when you lose! We will offer you the best gaming mice on the market!
This selection is seperated in 2 parts, on one side the wireless gamer mice , on the other side the wired gamer mice.
How to choose a Gamer mouse?
Shape: (Right / Left or Ambidextrous)
The gamer mouse must be adapted as much as possible to the morphology of your hand. So avoid models that are too big if you have small hands and vice versa. It's up to you to adapt the shape to your way of playing. Left-handed players will prefer dedicated models or ambidextrous mice.
The weight should also influence your choice, people with a fairly intensive use (gamers, computer graphics…..) will preferably use gamer mice fairly light or of moderate weight, otherwise they will quickly tire their wrist. Many models have weights that allow you to weight the mouse or not in order to maximize the comfort of use.
It is a criterion specific to each one, you must obviously like it if you want to keep it for a long time.
Don't worry, the builders are not lacking in imagination and there is something for everyone.
With the optical gaming mouse, the movement of the mouse cursor on the screen is determined using snapshots obtained by means of an LED that emits light onto a surface and is retransmitted through lenses to a sensor. The sensor only has to analyze the roughness (of the surface on which the mouse is resting) to calculate the trajectory and retransmit it to the screen.
Même principe que l'optique mais utilise un faisceau qui permet au capteur de recevoir des clichés bien plus nets. De ce fait, le déplacement du curseur sera bien plus précis.
Pour ce type de technologie, l'utilisation de tapis (ou surface) en verre est déconseillé.
How many dpi for a gamer mouse?
The value to monitor is its resolution in DPI (dots per inch) or its English equivalent dpi (dot per inch). The higher this value, the more accurate the mouse is. Above 4000 dpi, you have a product that is already starting to make a difference.
To make it "simple", a mouse with a high number of dpi will see its cursor move quickly with barely any movement of the mouse.
On the other hand, a mouse with fewer DPIs will have to move more to get a similar result.
Be careful, to use a good gaming mouse, you need the gaming mouse pad that goes with it!
Gamers are mainly oriented towards wired mice. Not to worry about the loading level of the mouse but also because of the efficient wireless technology (no latency) at a financial cost. So they are generally quite expensive.
Wireless mice: Generally, this type of device communicates via a Bluetooth interface. (WiFi can also be used or Fast RF technology at Logitech.) Nowadays, latency on this type of product no longer exists.
Wired: In USB
The number of programmable buttons (macros) is fundamental. If for the common mortals, 3 buttons (2 buttons + scroll wheel) will be sufficient (office automation) or even 5 for page scrolling, players (FPS,MMO…..) and other graphic designers will look for models ranging from 5 to more than 15 buttons.
Don't forget the Mousepad
Don't forget that a good gaming mouse must be accompanied by a mouse pad adapted to your style (Speed or Control).
The best gaming mice on the market
In the field of gaming mice, contrary to other categories, it is possible to have quality equipment without spending too much money.
Gamer Mouse, Optical Sensor, Wired, Right handed, 10000 dpi, 8 buttons
Sober design and RGB just perfect:
The Cooler Master CM310 mouse uses a 10000 dpi optical sensor by PixArt embedded in an RGB illuminated shell. Its 8 programmable buttons and its comfortable grip are only additional arguments!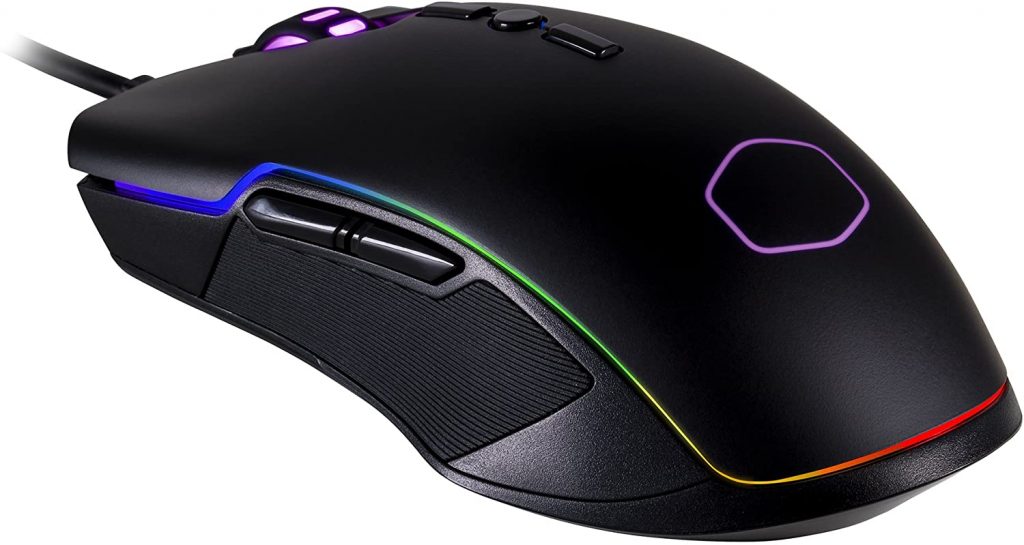 Game, Optical Sensor, Wired, Right-handed, 12,000 dpi, 6 buttons
Corsair integrates the essentials of gaming in a compact and accessible mouse!
With its small size, RGB backlighting and muscular performance, it will prove to be excellent for those who are on the go or on a tight budget.
Based on an optical sensor with adjustable resolution up to 12000 DPI, the Harpoon RGB has all the precision needed to hit your targets. The 1000 Hz polling-rate ensures perfect mouse responsiveness to 1 ms.
The Harpoon RGB's ergonomic design provides a comfortable grip that conforms to the shape of your hand and a firm hold thanks to the textured coating under the thumb. Stand out with your own color thanks to the 16.8 million color LED RGB lighting system.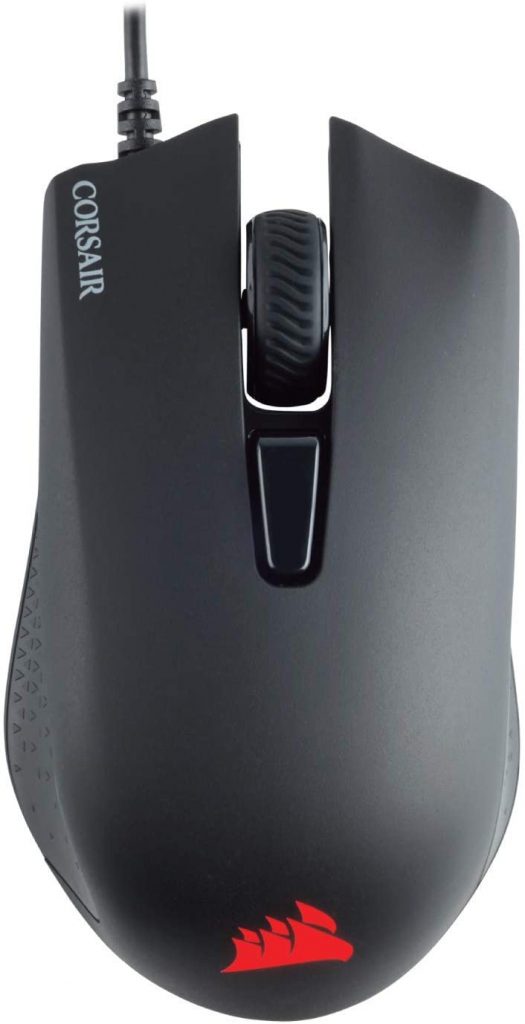 Glorious Model O (Regular), Matte Black
Adjustable resolution up to 12 000 dpi – 6 programmable buttons – 67 grams
The ultra lightweight!
The honeycomb-shaped shell of the O model is the key to obtaining a featherweight while maintaining its ultra-durable strength. You'll barely feel the holes during play, but they provide ventilation to keep your palms cool. Cleaning the Model O is easy, just use an air blower and your mouse will be as good as new.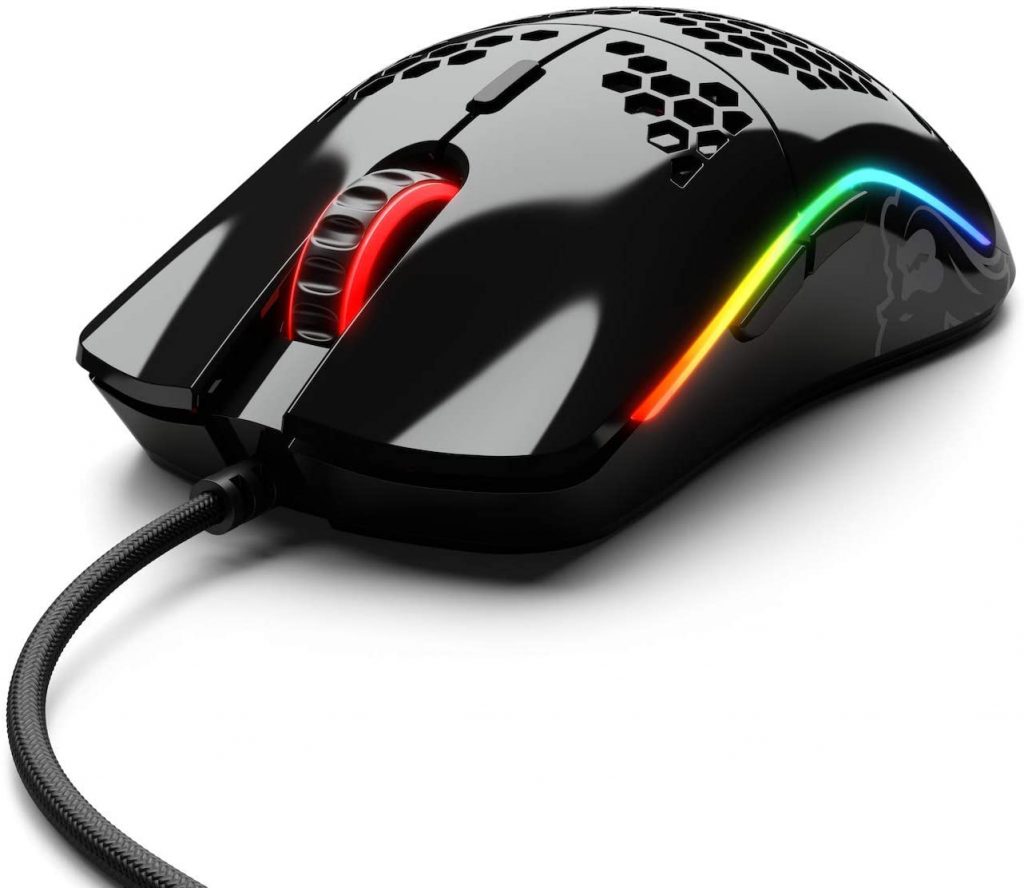 Logitech G402 Hyperion Fury FPS
Optical, 4000 dpi, Right-handed, Game
The Logitech classic!
This mouse takes up the challenge with its 4000 dpi sensor that ensures precision and accuracy. This resolution is adjustable on the fly thanks to the 2 dedicated buttons (+/-) to allow you to change your sensitivity in the middle of the game. Choose precisely between 240 and 4000 dp.
In terms of ergonomics, the G402 Hyperion Fury gaming mouse adopts a streamlined shape. To make it easier to grip, it has also been carefully designed with a special coating that perfectly matches the position of your hand, no matter where it's placed. For a gamer, there are generally two types of positions on a mouse: "palm grip" (with the palm therefore) and "claw grip" (the fingers hooked in the shape of claws on the buttons). The G402 is suitable for both, as it has an anti-track coating (for the fingers) as well as a hydrophobic coating that prevents the claw grip phenomenon.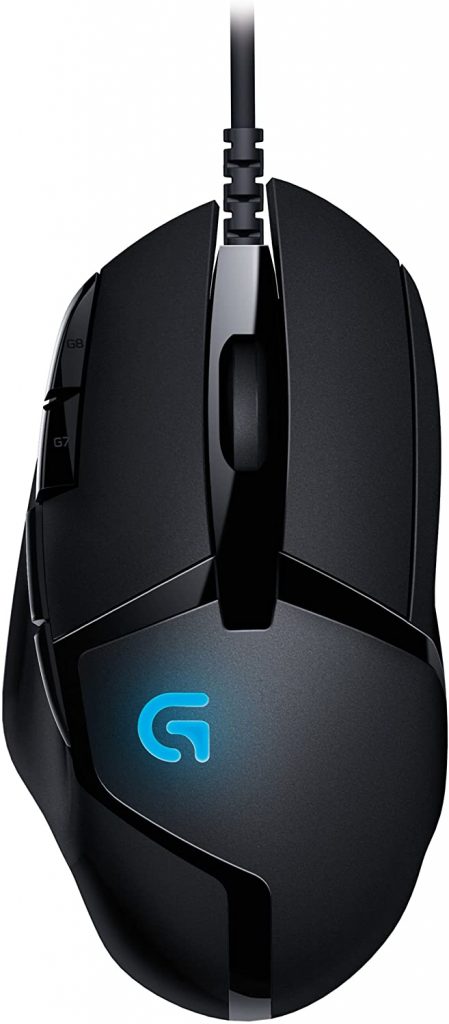 Roccat Kone AIMO Remastered
Game, Optical, Wired, Right-handed, 12000 dpi, 10 buttons
The new Kone AIMO perfects the original model with an even more accurate sensor, an easy-to-clean performance coating and a cleaner look. While maintaining its legendary ergonomics and thumb-optimized zone. It has a full range of features for maximum precision and possibilities.
The Roccat Kone AIMO Remastered gaming mouse uses the Owl-Eye sensor with 16,000 dpi accuracy, while incorporating the latest AIMO RGB backlight technology. The result is a synthesis of aesthetics and performance that leaves you dreaming!
Enhanced to include an improved thumb zone, the Kone AIMO now has an even larger control panel. This zone has three optimally positioned buttons: additional versatility while maintaining its precious ergonomics.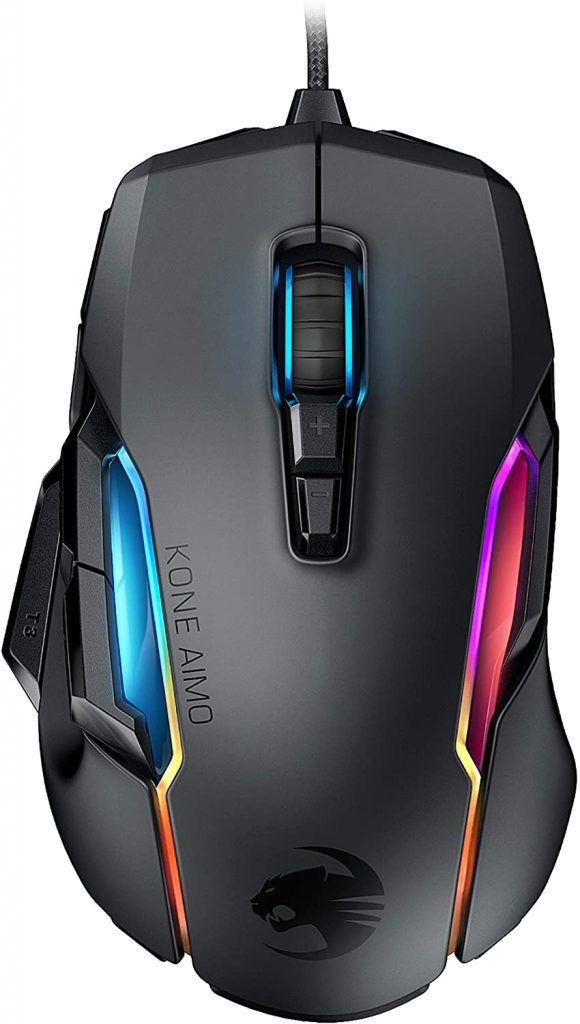 Wired gamer mouse, ambidextrous, optical sensor 7200 dpi, 8 buttons, RGB backlight , removable side buttons
Gaming wired optical mouse with true ambidextrous design and removable side buttons, exclusive socket design, and Aura RGB lighting with Aura Sync support
The ROG Pugio is an ambidextrous gaming mouse that offers ultimate customization possibilities to meet the needs of the most passionate gamers. Its configurable side buttons let you decide the layout that's right for you, while the sockets make it easy to change the switches and change click resistance. The socket design makes it easy to replace damaged or worn switches and increase the durability of the mouse. The Pugio has a charming and aggressive design that matches its performance, such as its Aura ASUS RGB light channels on the corners, supporting Aura Sync.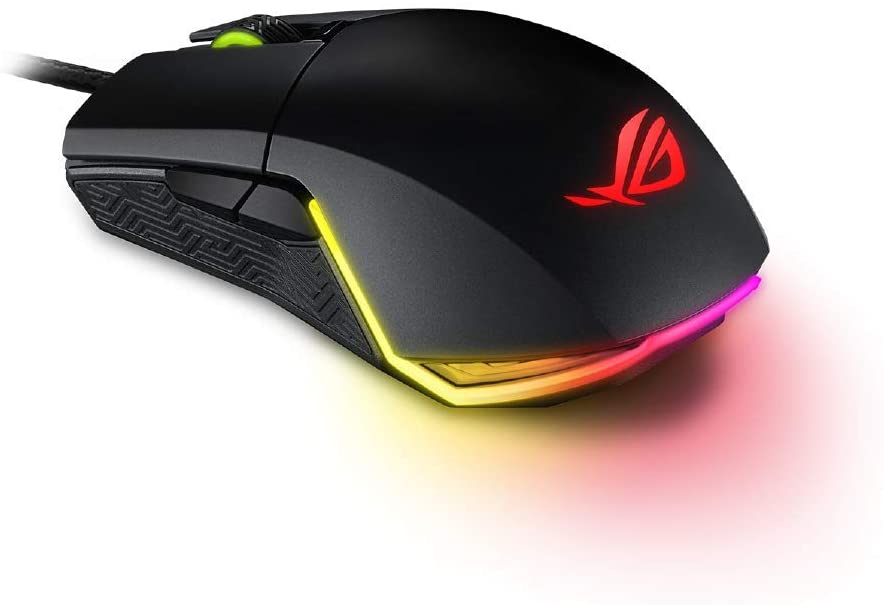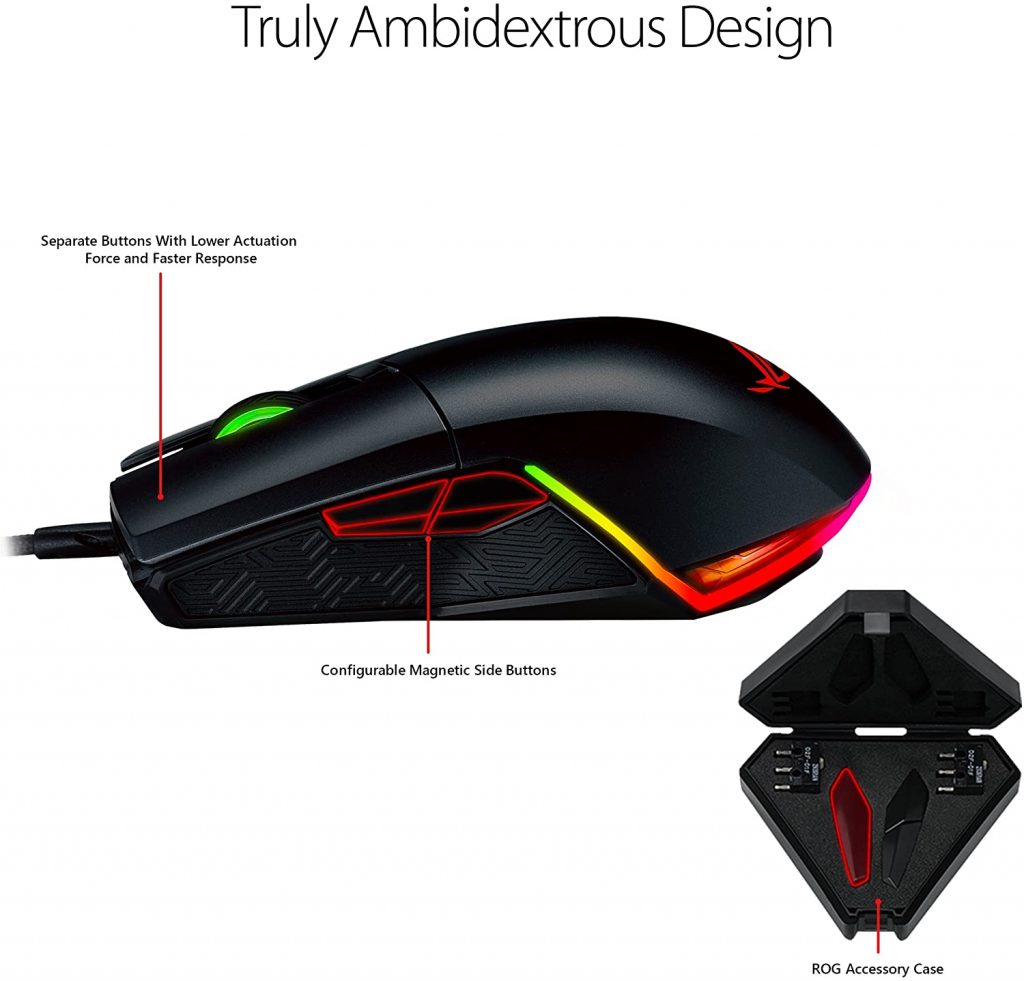 Ambidextrous mice with side buttons usually have a mirrored design to suit both right- and left-handed users. The disadvantage of this design is that the side buttons are pressed by mistake. And even when these buttons are disabled, they can still be a nuisance. With the ROG Pugio, you don't need to change your mouse grip to avoid the buttons. The Pugio has magnetic side buttons on both sides for a truly ambidextrous and ergonomic experience. Just remove the buttons and replace them with the side cover. Use four, two or no buttons, anything is possible!
Corsair Harpoon RGB Wireless
Wireless Gamer Mouse , Optical Sensor, Right handed, 10 000 dpi, 6 buttons
Wireless, simple and efficient!
The CORSAIR HARPOON RGB WIRELESS gaming mouse allows you to choose the game mode, with the possibility to easily connect to your PC via an ultra-fast connection, less than 1 ms.
The Harpoon RGB Wirellss proves to be formidable with its ultra-precise 10,000 dpi sensor, its polling rate of 1000 Hz and its multiple connection possibilities to your PC, whether you use it in wired or wireless mode for more freedom.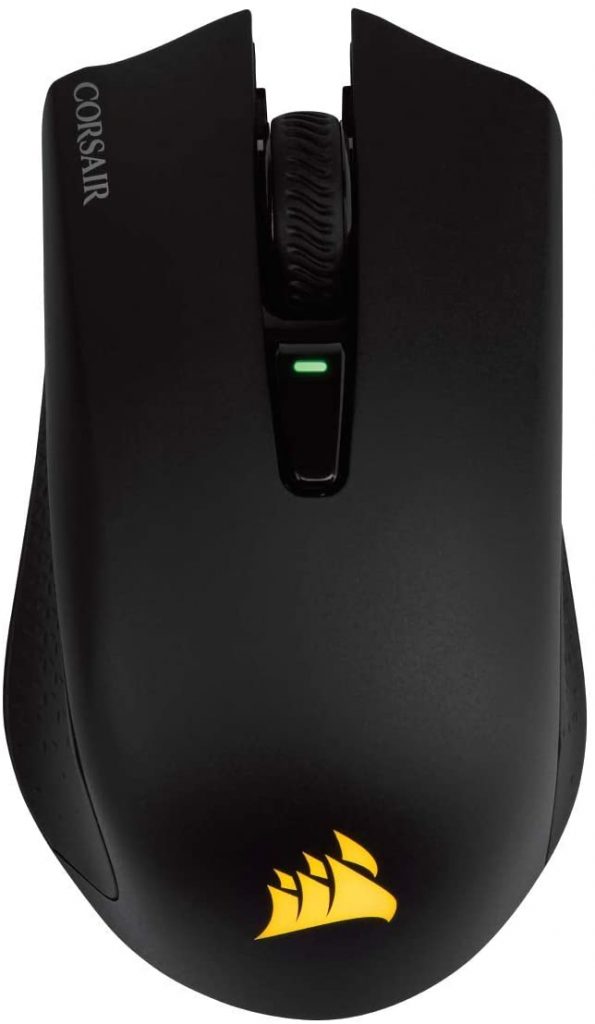 Wireless Gamer Mouse, Optical Sensor, Right-handed, 16000 dpi, 7 buttons
Built for performance, the Razer Mamba Wireless mouse features wireless connectivity for long-lasting gaming without restrictions. Ergonomically designed to give you an easy edge over your competitors. Equipped with a 16,000 DPI optical sensor, you'll move with absolute precision and complete freedom of movement.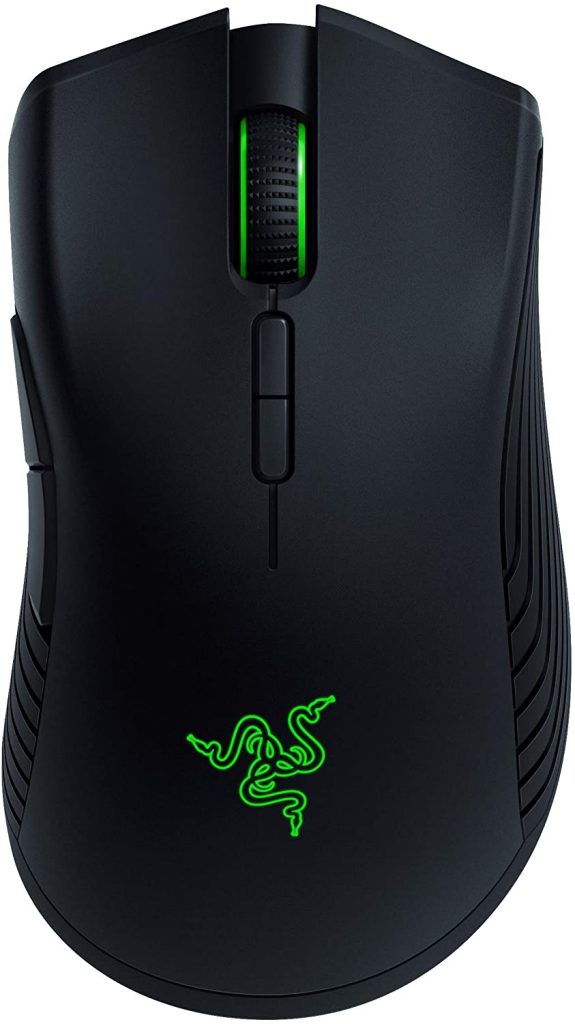 Corsair Ironclaw RGB Wireless
Wireless Gamer Mouse , Optical Sensor, Right handed, 18 000 dpi, 7 buttons
The CORSAIR IRONCLAW RGB WIRELESS gaming mouse combines an ultra-precise 18,000 DPI native optical sensor with a rugged, contoured shape designed to fit the palm and fit large hands.
Easily connect it to your PC via the ultra-fast <1 ms SLIPSTREAM CORSAIR WIRELESS technology, Bluetooth or USB cable and enjoy up to 50 hours of battery life.
Play continuously for up to 50 hours in wireless mode or switch to wired mode to continue playing while charging the mouse.
Wireless Gamer Mouse, Optical Sensor, Right-handed, 16000 dpi, 9 buttons
The Corsair Gaming Dark Core RGB mouse enables wireless gaming without sacrificing responsiveness thanks to its low-latency technology. Its 7 programmable buttons and 16,000 DPI sensor are just more reasons to give you the ultimate gaming experience.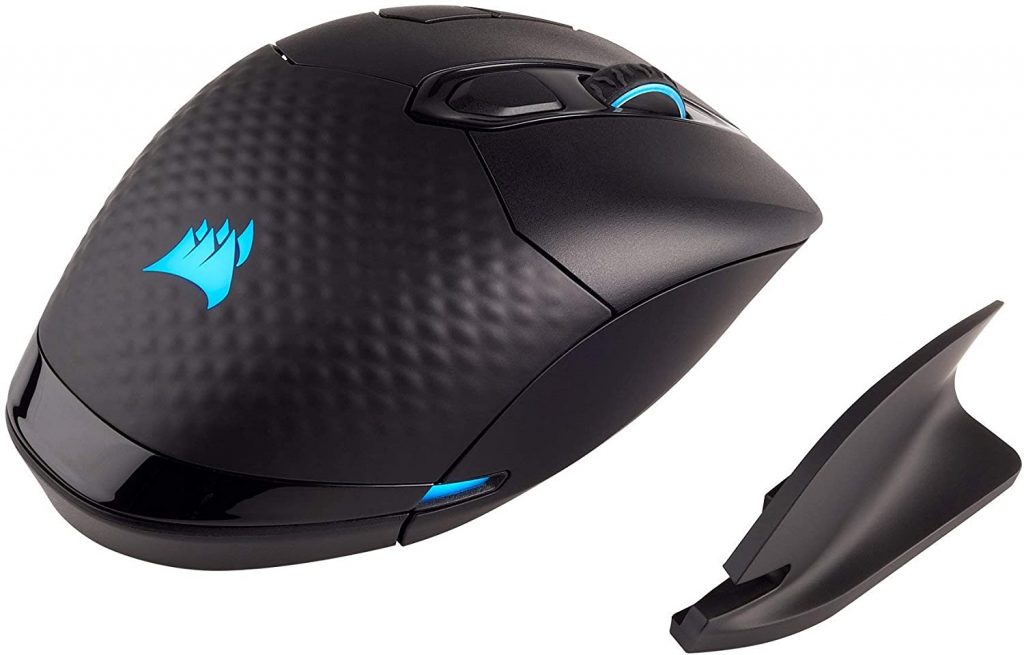 Wireless Gamer Mouse , Game, Laser Sensor, Right handed, 16000 dpi, 11 buttons
This time, the G502 is available in wireless. A renaissance change for this Logitech bestseller.
The G502 LIGHTSPEED mouse also features the next-generation HERO 16K sensor and is compatible with POWERPLAY. With this all-new, advanced and comprehensive technology, the G502 LIGHTSPEED mouse stays in the same popular shape while weighing just 7 grams less.
Simply plug the wireless receiver into USB and get Lightspeed right away!
Powerplay compatible, this wireless charging system allows you to continue playing without having to plug in your mouse, since it recharges wirelessly!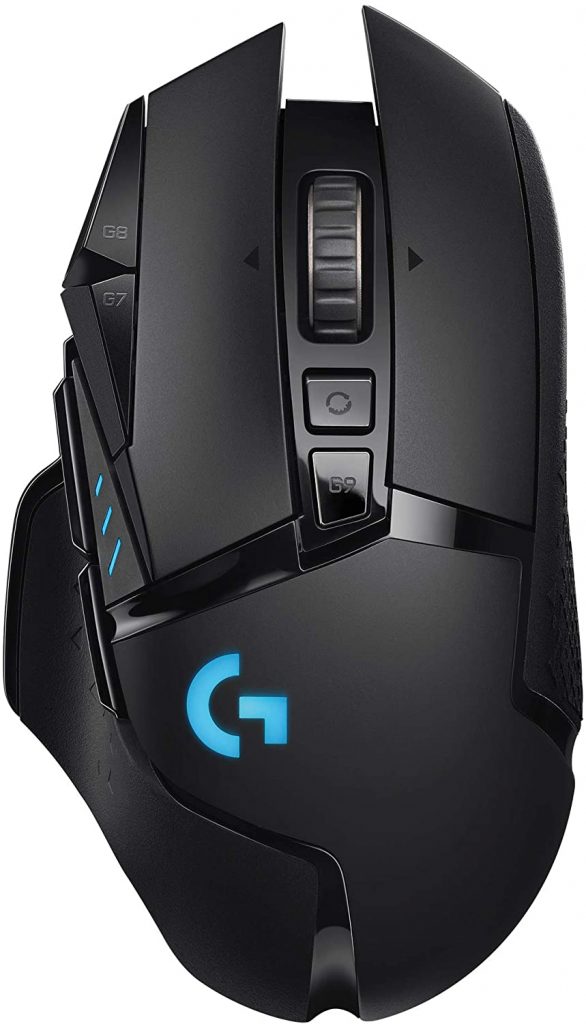 Gamer Mouse - Ultra High-end
Wireless Gamer Mouse, Optical Sensor, Right-handed, 12000 dpi, 7 buttons
With the SteelSeries Rival 650, you can be sure to play freely and without compromise. This wireless mouse features Quantum Wireless technology and TrueMove3+ dual optical sensors for exceptional sensor tracking. Moreover, with 256 weight configurations, you will be able to customize your mouse to your liking, so that it is the logical continuation of your hand.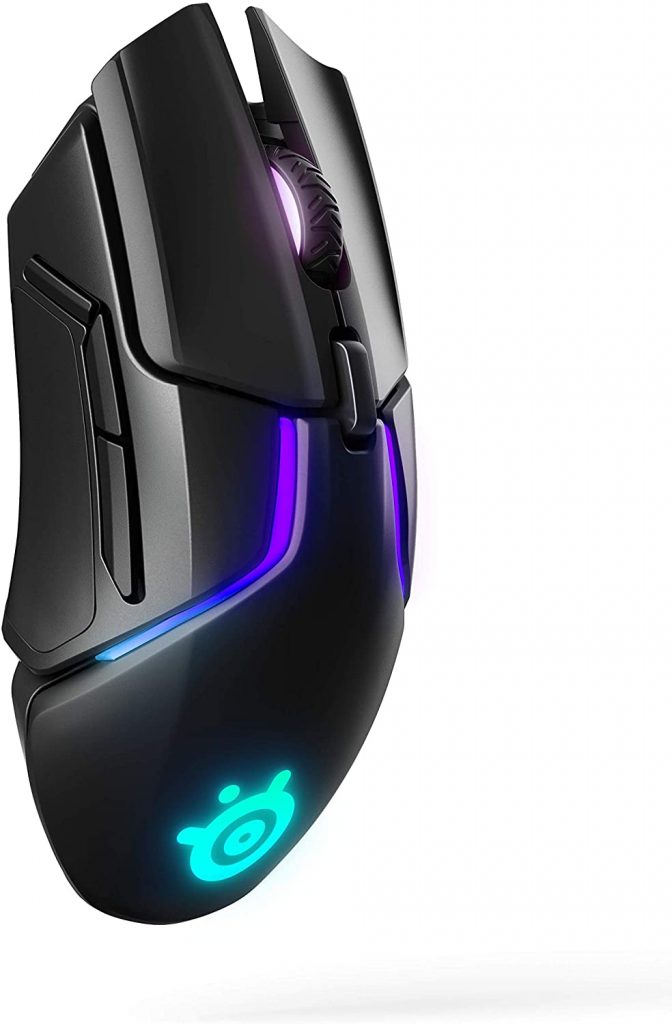 Wireless Gamer Mouse , Game, Laser Sensor, Right handed, 8200 dpi, 12 buttons
The Spatha ROG looks like no other mouse for several reasons!
First of all, its design is instantly noticeable, preventing any confusion with another model. This doesn't affect the grip, quite the contrary! More suitable for palm grip players because of its size and general shape, it will also suit claw grip players. Of course, its magnesium chassis contributes to its lightness and design.
Its laser sensor reaches a precision of 8200 dpi, which should be more than enough for the most demanding players. Still at the sensor level, it has an acceleration of 30 G and a capacity of 150 ips. In wired mode, the maximum USB gear ratio reaches 2000 Hz, never before seen! This means that the mouse information is updated every 0.5 milliseconds!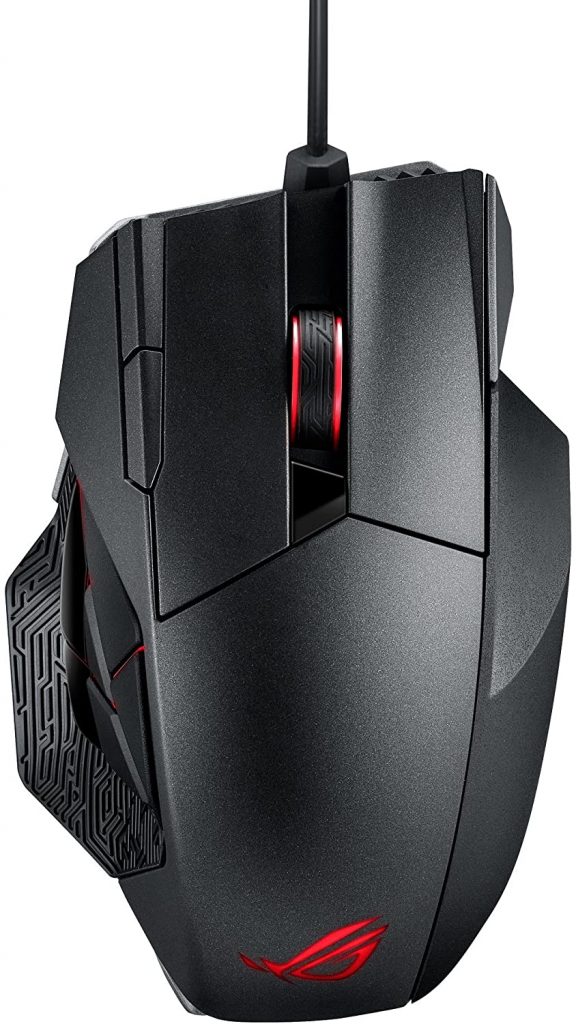 The Spatha comes with a charging base that also acts as a receiver for the wireless connection. There's no need for a hook to hold your mouse in place, it holds magnetically!
To customize it even more, the backlight is adjustable among 16.8 million colors. So, in addition to customizing the feel, you can also customize its color on 3 zones (scroll wheel, logo and side buttons) to match the rest of your peripherals!