Projector or smart TV? As the holiday season approaches, you may be asking yourself this question if you're about to purchase a new device that lets you watch your favorite content. To help you with your shopping, let's take a look at the main advantages of these two devices.
Larger screen size with projectors
Hard to compete with the screen size of a projector. Depending on where you place your projector, you could get a screen size of… 100 inches! Unless you look at very high-end or experimental TVs, no consumer TV can compete with this diagonal.
In the best case, you could get your hands on a 75-inch TV. Yes, there are a few TVs over 80 inches, but, honestly, most of these models are very expensive.
In short, if you want the biggest screen possible, get your hands on a projector.
Resolution and HDR supported on both devices
You'll find a wide range of models supporting 4K and HDR, both on the smart TV and projector side. You'll be able to enjoy very good resolution, as well as more natural contrast.
If you're interested in 8K, however, you'll need to look at smart TVs. What's the point? Because this resolution is not yet supported by the consumer projectors sold at Best Buy.
Easier installation with smart TVs
When it's time to install a TV, you have two options. First, you can put it on a piece of furniture using its stand. You can also hang it on the wall using a stand sold separately. This last option is a little more complicated because you'll have to drill holes and make sure your wall is strong enough.
On the projector side, in many cases, you will need to mount your projector to the ceiling. You can, of course, place it on a piece of furniture, but you'll have to make sure that nothing blocks the light beam. Otherwise, you'll get a cropped image. Also, your image may be cut off every time someone walks by the projector.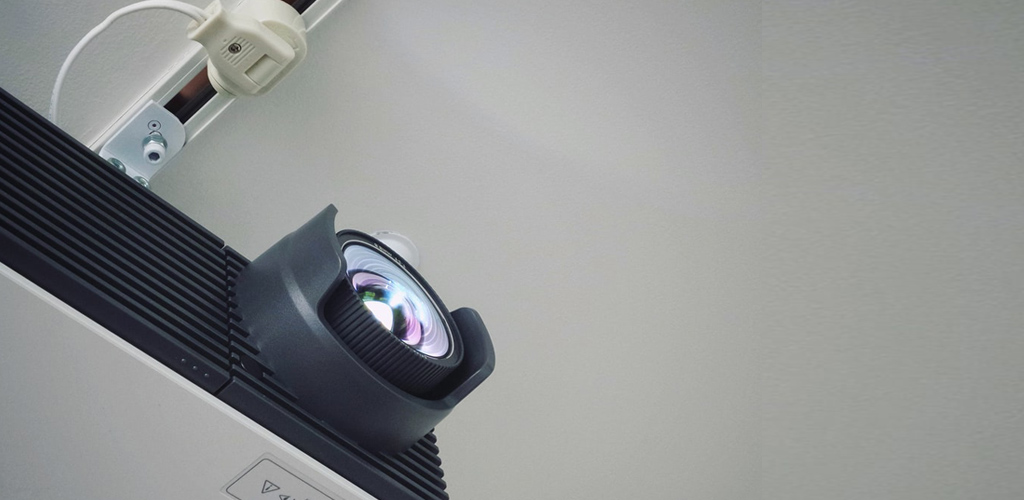 When installing the projector on the ceiling, you'll need to drill holes and connect the power cable to an electrical outlet and to various devices, such as your game consoles, which takes a lot more planning than with a smart TV.
Finally, with a projector, you'll need to purchase a canvas. In addition to increasing the purchase price, you'll need to install it properly on the wall. You will also need to make sure that your projector and your canvas are properly aligned so that the projected image is in the center of the canvas.
The size and brightness of the room
With televisions, the size of the room rarely poses a problem. Of course, you shouldn't be too far away from a small screen or too close to a big screen.
With a projector, you'll need to have a room big enough to get a large picture. Otherwise, the image will be too small and you won't get the full benefit of your purchase. Also, projectors are more sensitive to light than smart TVs. If your room is very bright, the projected image will appear paler, which is less common with a smart TV.
Projector or smart TV: it's up to you!
That's all about this article. While smart TVs and projectors are available at roughly the same price, they're not aimed at the same types of consumers. Televisions are easier to install and are lighter tolerant than projectors, which are more intended for installation in large, dark rooms.