You're probably looking to upgrade your current home theater setup with one of the best 4k projectors on the market today. However, buying a new and better 2021 4k projector can be a little daunting, especially considering the average price, but here it is at UnitechRadar, we've done most of the work for you. For something a little more economical, choose the best and cheapest projector. We've tested 11 of the best price-quality 4K projectors to put them through a cinema and gaming test to see which one is best for you and your home theatre. Our tests included image quality, HDR compatibility and color gamut. We watched countless movies and played our share of video games to find the best 4K video projector.
What 4K video projector to choose in 2021?
When it comes to the qualities a 4K Video projector must have, we find the following features: ultra high contrast ratio, brightness and long life bulb. The 4K projector must work perfectly in any kind of lighting. Read on to learn more about the 4K projectors on our list. At the end of this list of the best projectors on the market, you'll have the perfect projector for your home.
After more than 100 hours of testing and the elimination of the other 5 projectors that did not meet our expectations, we can say with certainty that these 5 are the best 4k 2021 video projectors to choose from.
1. Optoma 4K Video Projector
When writing this list, we were looking for the best 2021 4k projector, which struck a good balance between cost, features, portability and performance.
While the UHD60 doesn't have all the features of a super high-end projector, it's capable of holding most of what we like while costing about $1,600 at the time of this review. It's certainly one of the best home theater projectors on our list.
The Optoma UHD60 offers all the features you'd expect from a 4K projector. This top-of-the-line 4k ultra HD projector features an impressive contrast ratio of 1,000,000:1, which keeps bright scenes bright and dark scenes detailed, while displaying an impressive 3,000 lumens of brightness. This brightness is sufficient for both dark and bright viewing environments, ensuring you get the best possible experience, whatever the time of day. Install this projector in your living room or bedroom. In both cases, you will get a high quality image.
For these and other reasons, we we consider this our best 4K projector of 2021.
2. ViewSonic 4K Video Projector
The ViewSonic 4K projector beats the brightness of the Optoma UHD60 at 3500, but in tests, the blacks turned out a little brighter than we liked because of its lower contrast ratio.
All that aside, considering its price is under $1,000, it's easy to forgive these slight missteps to make this 4K projector the best budget you'll find on the shelf. The ViewSonic 4K projector is the perfect entry point for the budding 4K projector enthusiast on a small budget. It could also make a pretty good portable projector.
Of course, the ViewSonic may not have the best contrast ratios or the deepest blacks, but considering the price, all these little faults are easily forgiven. This ultra high-definition projector is a solid and versatile tool for the beginner in 4K projection, someone who isn't sure if they're ready to let go of an arm and a leg but still wants to be part of the 4K projector elite.
3. BenQ 4K video projector
With a brightness of 2200 lumens, HDR compatibility for faithful color representation and a contrast ratio of 30,000:1, the top-of-the-line 2021 BenQ HT3550 4k projector is a great choice for gamers and home theater enthusiasts.
The HT3550 is a sleek-looking projector with performance to match. With a super wide color gamut, native 4K resolution and a high contrast ratio, this projector is perfect for gaming.
Unfortunately, the projector is not as bright as the others on our list, which is why the best price-quality HT3550 4k video projector ranks third on this list. However, you will probably play in the dark anyway, which eliminates this problem for you. The fan also gets pretty noisy during intense gaming sessions, but if you vibrate your gaming headphones, you won't even hear it. For all these reasons, the BenQ HT3550 is ranked third in the top 4K projector rankings.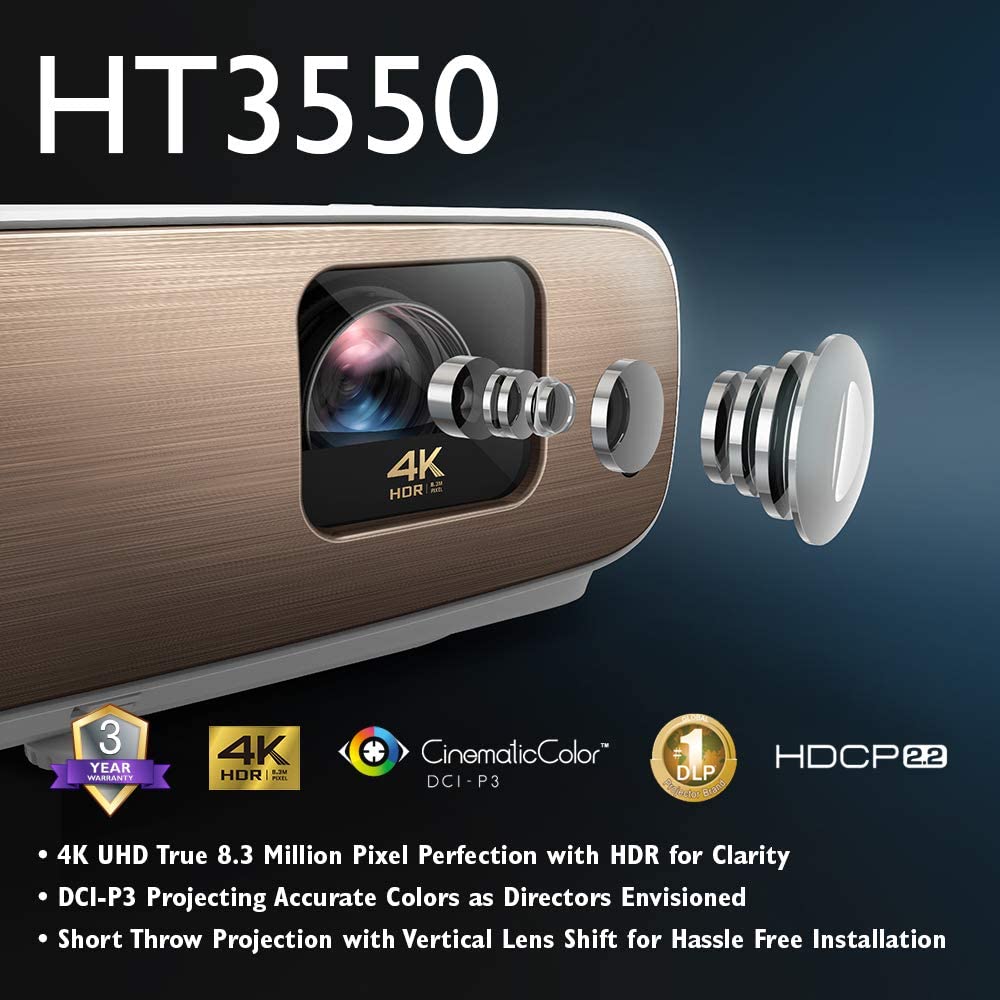 4. SYHSZY video projector
The SYHSZY 3D home theater projector adopts a vertical design, breaking the traditional placement of the projector. The minimalist design fits perfectly in any home environment. The HD video projector uses high-power LED light sources to show you more real, natural and clear images that will give you a great viewing experience and create your own private cinema!
With 4K projectors, on the other hand, the average screen size is often between 80″ and 140″, which means that each pixel has the opportunity to shine in its glory in ultra-high resolution. Be sure to check the screen size/distance ratios of your best price-quality 2021 4K projector before making your final choice. If you're wrong about this aspect, the picture quality can be seriously compromised, so keep that in mind.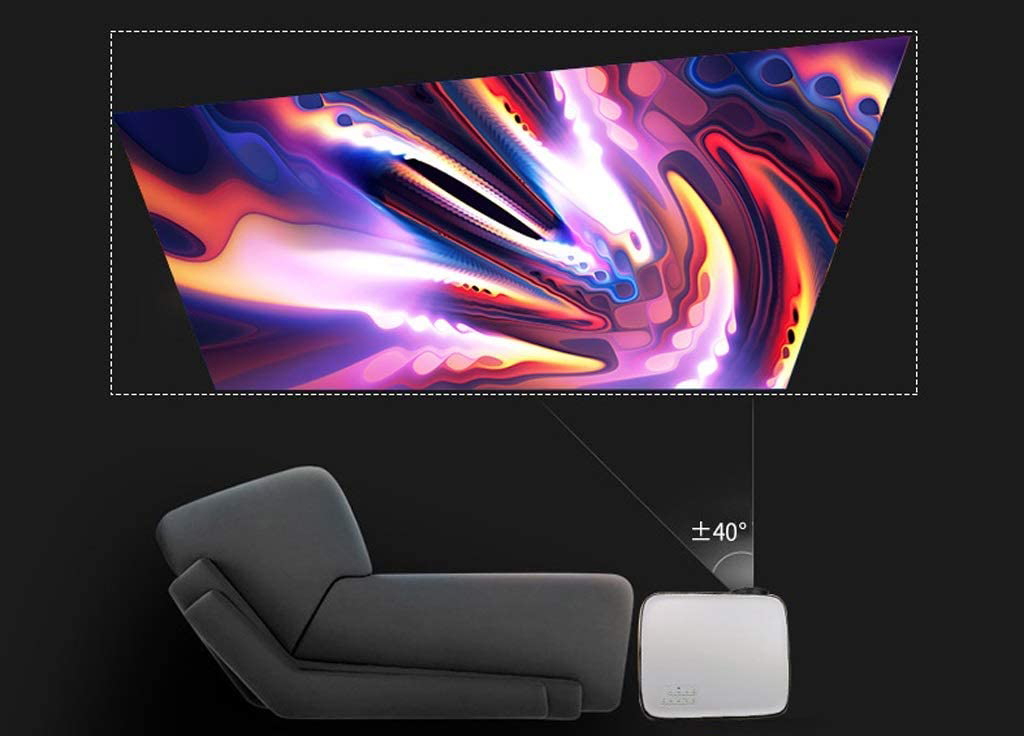 Garsentx 4K video projector
The Garsentx 4K video projector supports wireless frequency function, 3D playback with 3D glasses, and the stereo effect is more realistic, you don't need to go to the cinema! You can also enjoy the IMAX big screen cinema at home. Playing games is more exciting with this 4K video projector.
4K projectors are a serious investment, reserved for those most obsessed with home entertainment. So make no mistake if you are looking for the best 4k projector for less than $100. And keep dreaming if you're looking for a better 4k projector for less than $2,000. That won't happen, at least not anytime soon. On average, a better 4K projector will cost much more than its 1080p counterpart, between $400 for the low-end and $3000 for the premium option.
Whichever projector you choose from this list, you're guaranteed an unprecedented movie experience. If you have a limited budget, the best 4K 2021 price-quality BenQ 4K video projector will get the job done, and if you want to treat yourself to the best of the best, the Optoma 4K Video Projector is waiting for you. Either way, the 4K revolution is here, and these are the projectors that will keep you ready, no matter what movies, games or TV shows you offer.