A selection of the best current smart Wristbands
The connected wristbands or activity bracelets are an intelligent connected objects that measures your daily physical activity, including the quality of your sleep. Like a coach, it advises and encourages you to move, to stay in shape and improve your daily life. Numerous models regularly bloom on the market, each one more sophisticated than the other. 
How to find your way around and make the right choice? This article should guide you.
Reviews and comparison of connected activity wristbands
In this comparison, we have voluntarily offered only activity bracelets. Please note that most sports watches have an activity monitoring function in addition to their sports functions. In addition, some so-called connected watches are also designed for mixed use (city and sport), they are both elegant and very complete in terms of functions.
The Honor Band 5 is one of the cheapest wristbands (less than $50!) but rather complete connected bracelet for the price. Elegant, it is equipped with a color and curved AMOLED touch screen with very good clarity, a heart rate monitor with 24/7 heartbeat monitoring and a pulse oximeter (SpO2) to know the blood oxygen level.
It can monitor more than 10 sports activities (running, cycling, walking, elliptical bike, rowing, etc.) and transmits the data via Bluetooth (Google Fit, MyFitnessPal compatible). It can therefore be used for health monitoring (detailed analysis of sleep, number of steps, distance, etc.) and for sports!
It does not have GPS but can interface with the GPS of your Smartphone. It can also control music remotely as well as taking pictures! It shows Smartphone notifications and a "find my phone" function is available. Its autonomy is excellent: 14 days! (6 days if you activate the monitoring of heart rate and sleep).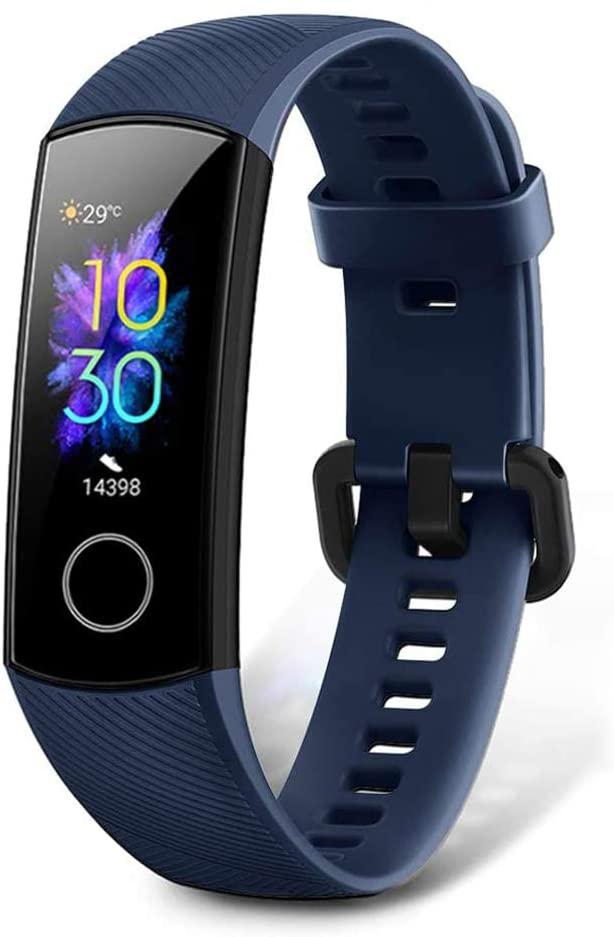 Huawei is known for its phones and it is making a small revolution with its reasonably priced yet feature-packed connected wristbands. This smart wristband offers a design and metal finish that makes it look great. Its AMOLED high-definition screen (240×120 pixels, 0.95″) is comfortable. It is equipped with a GPS to record your route and a cardio on the wrist for activity monitoring and detailed sleep analysis. The optical heart rate monitor has infrared LEDs used at night so as not to disturb your sleep. The wristband embeds the Firstbeat algorithms used in the best sports watches, offering advanced physiological data for sport: VO2max, training effect, recovery time
The on-board sports coach provides professional advice for sportsmen and women. The bracelet can follow several sports (running, cycling, swimming, etc.). It measures the heart rate underwater, displays the WOLF score, measures distance and more (waterproof to 50 m). The autonomy is 5 to 12 days depending on the use of the cardio and 7 hours in GPS mode (much better than the previous model Huawei Band 3 Pro).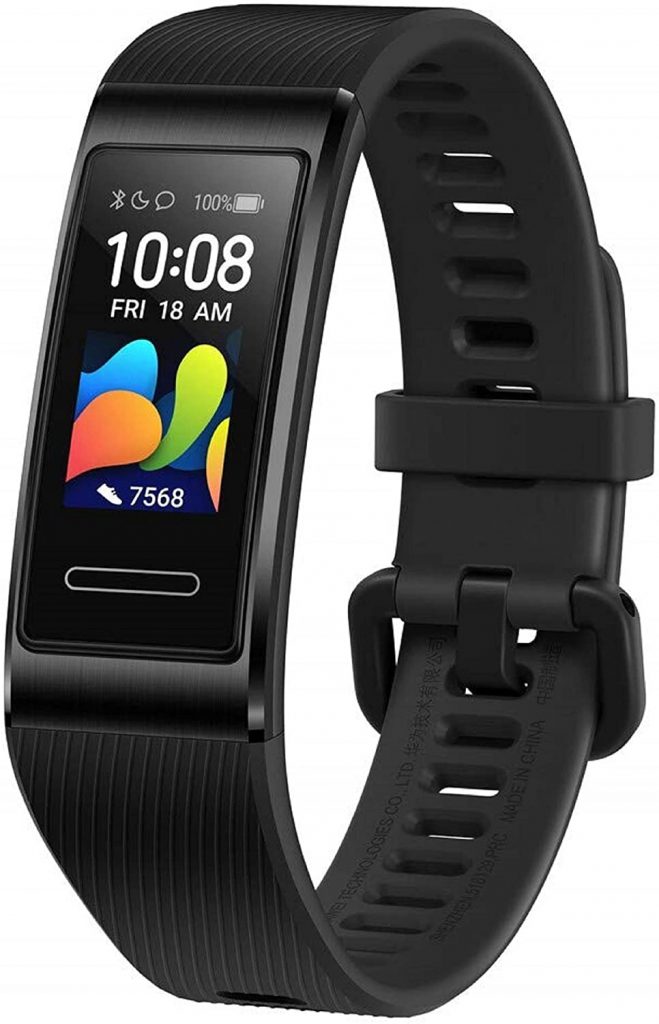 This elegant and robust wristband with an intuitive color touch screen is packed with sensors and offers ultra comprehensive functions. An improved version of the Fitbit Charge 3, it includes a GPS, a heart rate monitor on the wrist that also acts as a pulse oximeter (measuring the level of blood oxygen), an altimeter and a contactless payment solution (NFC chip). It has a sports coach, analyzes your sleep in detail, monitors women's health. It can monitor more than 20 sports activities (cycling, swimming, walking, etc.). .
The bracelet displays an intensity map (route displayed in color according to the intensity of the effort) and indicates whether the effort has improved your endurance or caused you to lose fat. It encourages you to move and hydrate. It helps you relax with pulse-based breathing sessions. The Fitbit Charge 4 allows you to control the music and browse playlists and podcasts directly from the wristband. Its autonomy is 7 days (5 days in GPS mode).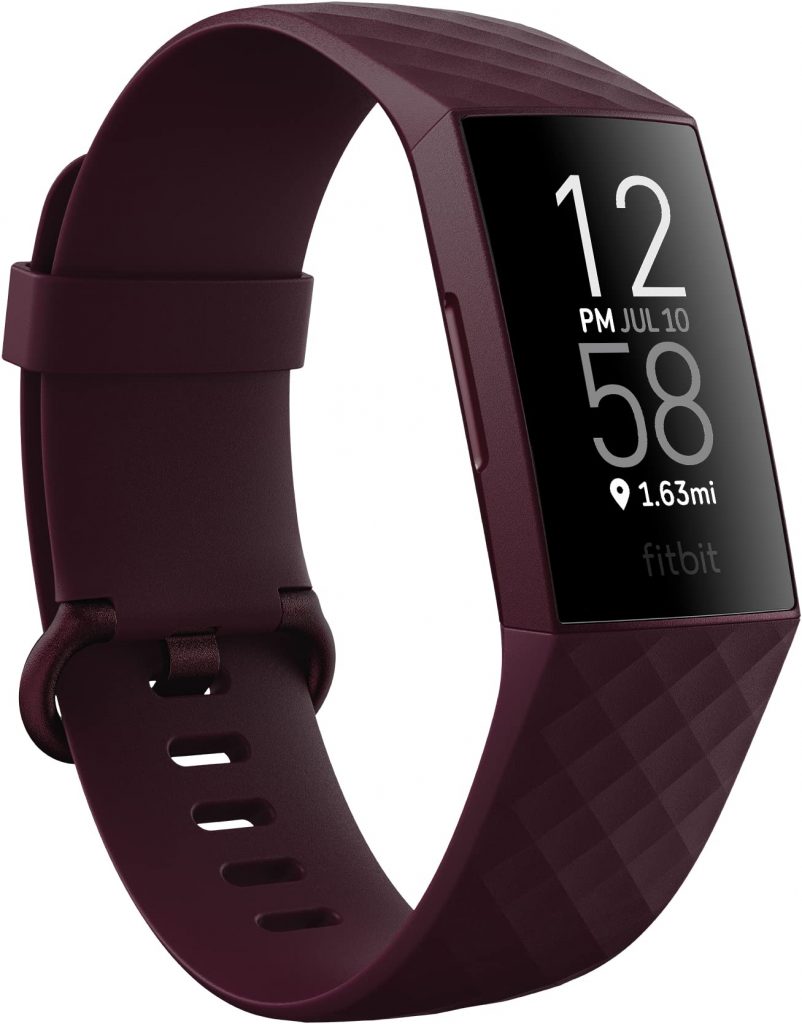 GPS, oximeter, contactless payment, altimeter, detailed sleep monitoring, heart rate target zones, personalized breathing sessions, 50 m waterproof, Smartphone notifications and SMS response, HR target zones, interchangeable silicone bracelets, fabric, etc.
This is one of the best connected wristbands available today. It is multi-sport (about 15 sports), recognizes the sport activity and offers personalized coaching to motivate you. Elegant and comfortable on the wrist, with a large AMOLED touch screen, color and very bright 216 x 432 pixels, it is suitable for the city and sports.
It has many sensors (altimeter, barometer, cardio optical, GPS …) and functions including monitoring activity (distance, steps, floors climbed). An mp3 player allows you to listen to your favorite music (up to 500 titles) with Bluetooth headsets. The GPS and optical cardio on the wrist accurately measure the distance traveled, calories burned and cardiac activity. Its connected functions allow you to receive call and SMS notifications (requires a Smartphone) and even reply with predefined SMS messages. Android and iOS compatible.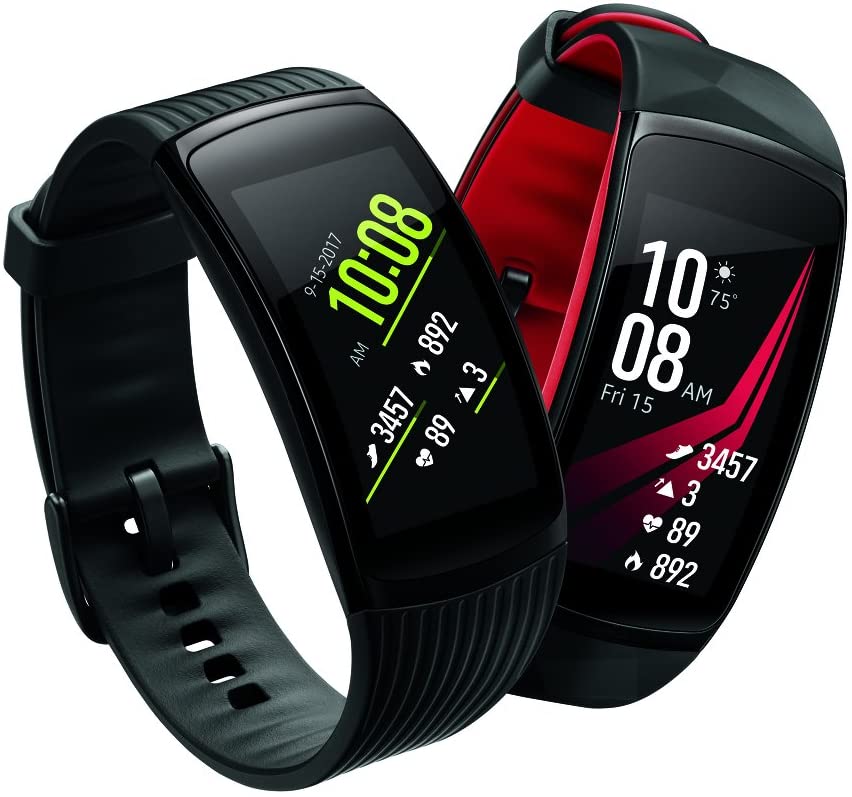 MP3 player, GPS, bright color touch screen, wrist cardio, barometer, personalized coach, built-in speaker, design adapted to sport, interchangeable wristbands.
Fitbit offers here one of the most reliable wristbands on the market. Its mixed design is suitable for both genders and it is particularly well suited for women who are looking for a thin and elegant bracelet that matches their outfit (interchangeable bracelet, also available in leather version).
It is probably also the best bracelet for sleep analysis (it detects light, deep, paradoxical sleep phases) thanks to an optical heart rate sensor. The Fitbit Alta HR encourages you to move and automatically detects the type of sport practiced. It tracks your activity (steps, distance, calories burned, heart rate). The Fitbit interface, for monitoring and data analysis, is also very user-friendly.
Elegance, optical heart rate sensor, interchangeable straps (many colors, leather), detailed sleep analysis.
Garmin is a reference in the GPS watch market and offers innovative wristbands. The Garmin Vivosmart 4 is very complete and offers some interesting new features such as the oximeter (measurement of blood oxygen level) to refine the analysis of your sleep. It has a wrist cardio (Garmin Elevate) for measuring calories burned, sleep analysis, VO2max measurement and stress measurement. A Body Battery function indicates your fitness level and invites you to rest or proposes a suitable activity.
It is based on the variability of heart rate, sleep, stress level and your activity. This multi-sport wristband offers a complete activity monitoring function (steps, distance, sleep, climbed floors, calories burned) and connected functions (access to weather, smartphone music control, call and SMS notifications and more. The Vivosmart 4 can count the number of repetitions at the gym, encourages you to move, gives you personalized goals and more.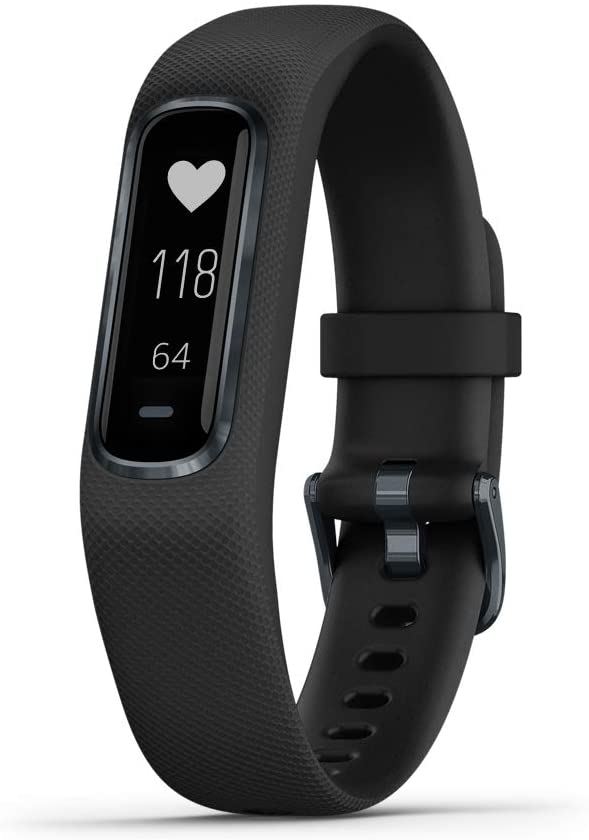 Luminous touch screen, barometric altimeter, pulse OX function, stress and fitness measurement, 7 days autonomy, ambient light sensor, weather access, waterproof (swimming and shower).
Garmin is known for its watches and bracelets that are comprehensive, reliable and offer innovative functions. We have selected this one for its rich functions and sensors: cardio optic on the wrist, GPS, barometric altimeter among others. Its 72 x 144 px color touch screen is comfortable to read even in direct sunlight. The backlighting is programmable as well as the display direction (horizontal or vertical). It offers a good follow-up of the activity including the number of floors climbed, intensive minutes, stress level, sleep analysis (deep or restless), calories burned. It also measures your physical condition (VO2max, physiological age).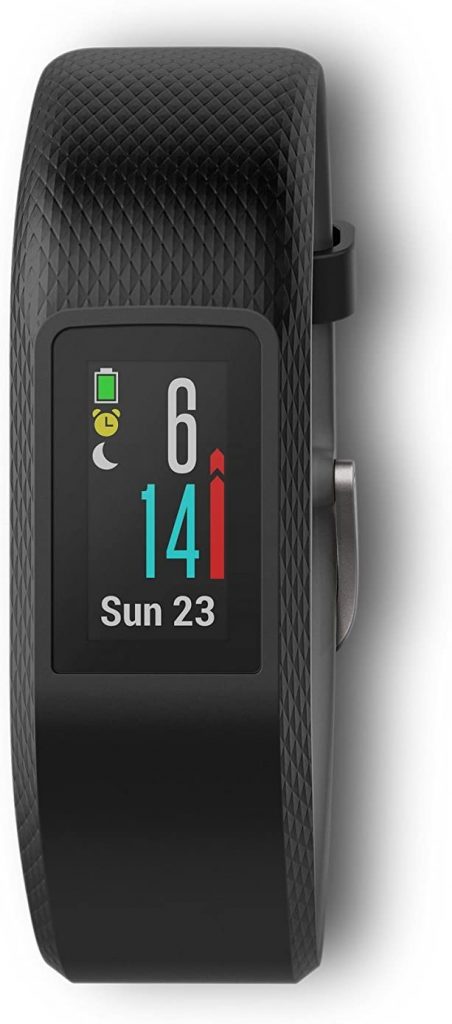 Its connected functions are very complete (SMS notifications, email, social networks, Smartphone music control, weather access, VIRB camera control sending data to the sports community, etc.) and include the LiveTrack function that allows your friends to follow you on the Internet. It accompanies you in your outdoor or indoor sports and counts the number of squats or push-ups in weight training. Its autonomy is good (7 days in watch mode, 8 hours in GPS mode). Compatible with iOS, Android and PC (with the Garmin Express application).