Smartwatches have been on the market for about 7 years when Samsung started the ball rolling. After all this time, it means that this type of product has reached a certain maturity. And Samsung's Galaxy Watch 3 is a confirmation that Samsung hasn't just launched "a new model" this year. It's probably the most interesting (and the most beautiful) product on the Android side, all brands combined.
Video Galaxy Watch 3: The most advanced health monitor on a smartwatch
Characteristics of the Samsung Galaxy Watch 3
Samsung's Galaxy Watch 3 provides real-time monitoring of your physical activity thanks to numerous sensors (heartbeat, stress level, sleep rhythm, fall detection, and more).
It is offered in 2 dial sizes (41mm and 45mm), in 2 colors (Mystical Black or Mystical Bronze), as well as a model with a superb titanium case.
Its Super AMOLED screen is very clear and easy to handle.
Its dial is surrounded by a rotating physical border, which allows it to quickly navigate through the different screens or menus.
It is powered by a lithium-ion battery of 340 mAh, which gives a charge of up to 3 days, depending on use, according to my tests.
It can be charged wirelessly, thanks to the charger included in the box, but can also be charged on a phone compatible with the "Wireless PowerShare" function, which recent Samsung phones are equipped with (such as the Galaxy S10, used for the purpose of this test).
It offers Bluetooth 5.0 connectivity as well as Wi-Fi, a microphone, and a small speakerphone.
It is compatible with Android 5.0 or later phones. It runs on TizenOS and is compatible with Bixby (Samsung's assistant).
A chic look, without trying to flasher
The watch has a superb look, very similar to that of a traditional watch, thanks to its stainless steel case. The two colors offered, Mystical Black and Mystical Bronze, are rather sober and that's something I liked. For too long, smartwatches have looked like toys or offered in flashy colors.
If you're looking for an all-purpose look that can be worn with a shirt (or blouse), a polo shirt, or even a t-shirt, the Galaxy Watch 3 goes with everything. Its genuine leather strap is also beautiful and adds to the experience.
The 45mm model that was sent to me for testing purposes is a bit big for my wrist, but I've seen much bigger traditional watches before. I quickly got used to it, but if I had to buy one, I would personally opt for the 41mm model. It's not a question of weight, since the 45mm model weighs only 53.8 grams (compared to 48.2 grams for the 41mm model), but of proportion to my own wrist.
An interesting thing with a smartwatch is the possibility to change the dial. You can choose a model that you really like, change the colors and often change the information displayed on it. Some of them are free, others are paid for on the Galaxy Store. It's up to you.
Physical activity monitoring and other functionalities
The Galaxy Watch 3 offers everything you'd expect from a device like this, when it comes to tracking physical activity and more: heart rate monitor, pedometer, GPS, weather, calendar display, music control, notification and call management, and more.
In fact, I already thought the idea of a smartwatch was a pretty good idea before the pandemic, but I must admit that the usefulness of such a device has just been even more justified, when you have to be careful what you touch and wash your hands constantly: to see the latest notification, you just have to raise your arm to look at your watch! Of course, to see previous notifications, you'll have to manipulate the screen or dial, but that's a smaller surface to clean than a 6-inch diagonal phone screen when you get home.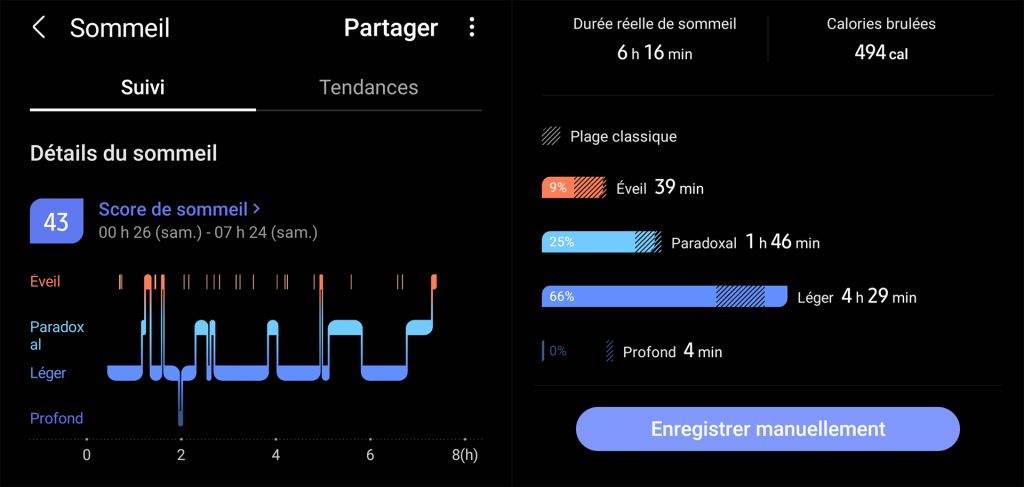 And the watch can record 40 types of activity, and automatically detects 7 of them: walking, running, swimming, cycling, and some others. It also reminds you to move (like the previous models), when you sit in front of your computer for too long. For the other exercises, don't worry, the watch detects that you're moving and will calculate your activity time, even if you haven't specified the type of activity. Finally, it also detects falls and even allows you to set up a contact to send an SOS message, in case you fall down while doing physical activity. Who knows, it might even save your life?
At night, the watch tracks your sleep phases – a very useful function for someone like me who has sleep apnea – and you get a detailed report with REM sleep, light sleep, deep sleep, and awakenings.
What I liked about Samsung's Galaxy Watch 3
firstly the rotary dial. Every watch should have one!
Good autonomy (2.5 to 3 days)
Huge choice of digital dials and many compatible applications
Ability to charge on the back of a Wireless PowerShare compatible phone
genuine leather strap is really quality
What I didn't like so much
Cannot measure blood oxygenation in Canada (whereas in the U.S., yes!).
Recharging time a bit long: up to 2h15, 2h30 for a full charge
My verdict on Samsung's Galaxy Watch 3
If you don't own a smartwatch yet, or if your current watch (smart or not) is starting to show signs of age, Samsung's Galaxy Watch 3 smartwatch is a great value. Not only will you be able to keep track of your physical activity and sleep, but you'll also be able to better manage your notifications on a watch that looks great.