Among the best tablets, excluding Apple's models, which run the apple operating system (iOS), almost all of them are powered by Google's Android OS. Here is a comparaison of the best android tablets on the market for 2021.
How to choose your Android tablet?
Android tablets come in two large families: 8 and 10 inch tablets.
This first model is more compact, offers a smaller display surface, but is also much lighter (around 300 grams) and is perfect for reading enthusiasts and for web consultation.
The 10 inch tablets are heavier (even though they never weigh more than 500 grams) but compensate for this with their screen. It is possible to watch movies and series, but also to play thousands of mobile games designed specifically for this screen size. If you consume a lot of entertainment on your tablet, the 10 inch models are made for you.
Again, it all depends on your daily use. If your tablet usage is limited to web browsing, a few social networks and an occasional Netflix series, an entry-level model will do the trick.
If, on the other hand, you're thinking of using 3D games, office software or file management software, or if you want to create, draw or edit videos on your tablet, it's best to start on a more powerful device, capable of supporting all the software over several years.
Android is not known for the regularity of its patches. If Google proposes a major annual update, manufacturers are then free to apply or not the new features proposed by the search engine.
As a tablet is a device that renews itself after several years, we recommend brands that offer a long support over two or three years, such as Samsung for example, one of the best players in the field.
We have listed the Galaxy Tab S6 as the first one in our best android tablets because Samsung offers us much more than just a content consumption device, but a versatile machine that's just as useful for work as it is for play. Your future computer?
Very powerful specifications
The Galaxy Tab S6 features a large 10.5-inch Super AMOLED display with a resolution of 2560 x 1600 pixels, displaying 16 million colors. Its very thin borders offer a large display area for a small footprint and a weight of 420 grams.
For the audio part, the manufacturer has chosen four loudspeakers placed at the ends of the device for an enveloping sound and an excellent stereo. For the photo part, Samsung has included a dual sensor of 13 and 5 megapixels in the rear and a front camera of 8 megapixels for excellent image quality during your video calls.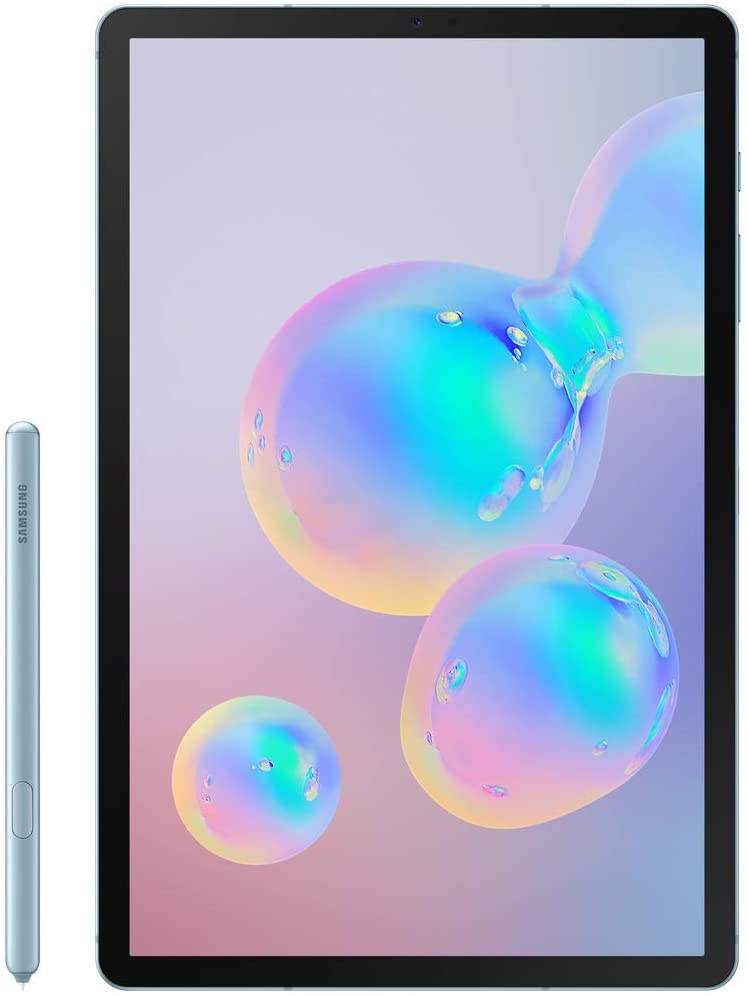 Samsung positions more its Galaxy Tab S6 as a complete personal computer and has equipped its tablet with a 2.8 GHz processor to support not only professional applications but also the video games available on the Google Play Store.
For RAM, 8 GB of RAM is available to support the processor and 256 GB of internal storage is present in the basic configuration and can be expanded up to 1 TB thanks to the integrated MicroSD port. Bluetooth 5.0 and Wi-Fi. A more expensive 4G version is also available for more mobile users.
The Galaxy Tab S6 can be a notebook or a drawing and photo editing tool thanks to the S Pen, supplied with the device. It is compatible with the applications provided by Samsung but also third party solutions such as Microsoft Office.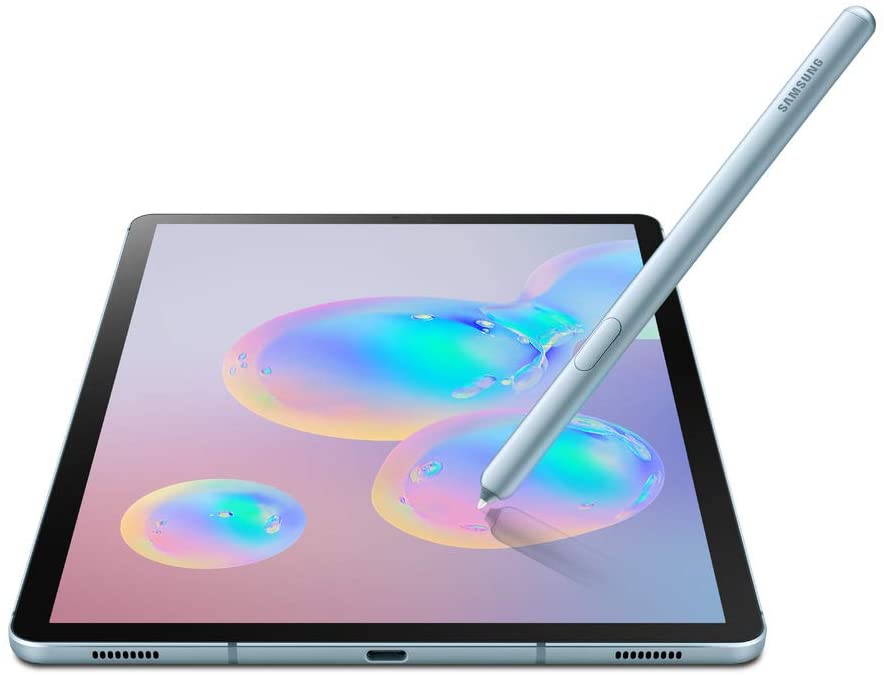 You can also activate Dex mode, which transforms the tablet into a compatible work environment with a keyboard integrated into the optional Samsung case, or simply by connecting a more traditional Bluetooth keyboard. With multitasking you can open multiple applications on the same screen and be more efficient in your work and communications.
Our opinion on the Samsung Galaxy Tab S6
For this new version, Samsung offers an extremely well-equipped model that allows users to perform all their computer tasks on the same screen.
The Galaxy Tab S6 is indeed a small computer with a very impressive autonomy (15 hours in video, a little less in versatile use) and a compact format for all those who want to get rid of the bulky personal computer once and for all. Excellence comes at a price, but Samsung has signed one of the best Android tablets currently on the market.
Huawei continues to produce a few Android tablets and although the manufacturer has reduced the wingspan in this market, it favors quality as demonstrated by the MediaPad M5, a device with an aggressive price, but which does not demerit in terms of performance.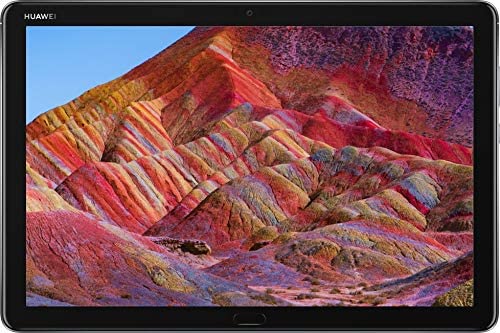 A classic and well designed tablet
Is there still a need to modernize the design of a touch tablet? To this question Huawei answers in the negative and offers a device that is all the more common. Nevertheless, the set shows a beautiful quality of manufacture, with a 10.8-inch screen, an aluminum back and a weight of 498 grams, which unfortunately you can feel.
The IPS panel offers a 2K resolution of 2560 x 1600 pixels and allows an exemplary fineness of display in movies, video games or simply for finer fonts on the web pages you visit. The sound is restored thanks to four speakers by Harman Kardon.
The Kirin 960 shows the extent of its possibilities
Huawei did not skimp on performance with its homemade Kirin 960 processor. Backed by 4 GB of RAM, the tablet is responsive in all circumstances, whatever the applications used, and multitasking remains fluid and usable.
Even in 3D mobile games, the MediaPad M5 is still highly recommended and allows you to display a completely correct frame rate and to enjoy these titles in completely acceptable conditions.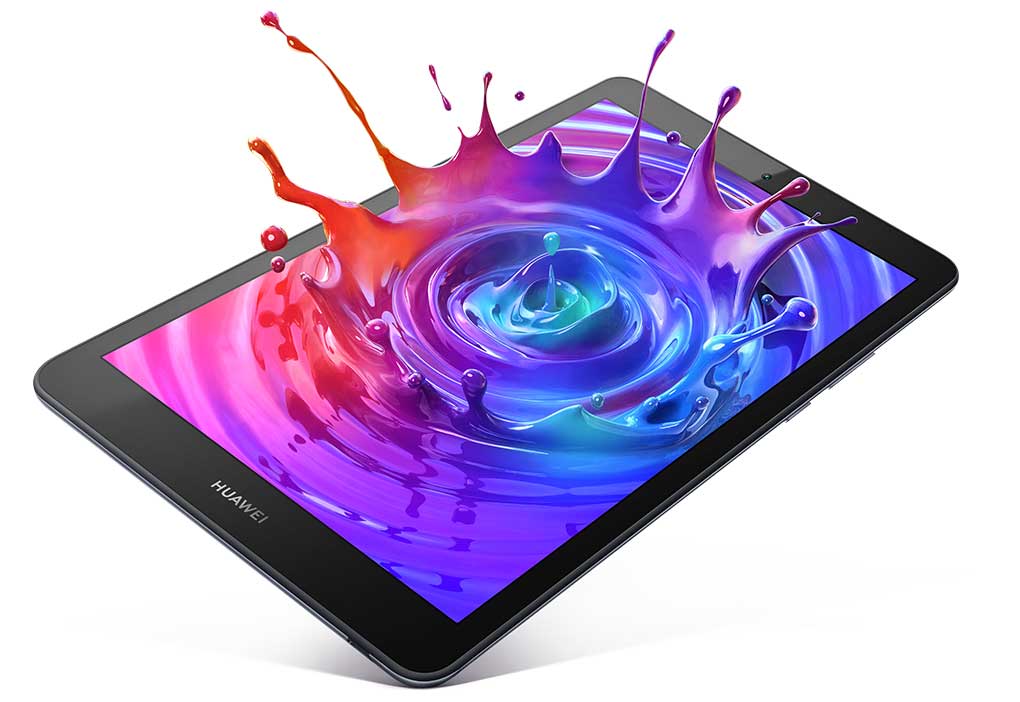 The autonomy of the MediaPad M5 is not the most exceptional on the market, with approximately 12 hours of versatile use. It will often need to be recharged, especially if the whole family takes turns using it during the day.
However, Huawei manages to overcome this problem thanks to the integrated quick charging system. In 30 minutes it is possible to recover an hour and a half of autonomy, enough to finish your episode, your game or simply your reading before putting it back on the mains for a full recharge. 
So yes, this tablet definitely deserves a place in our list for the best android tablets.
The world leader in e-commerce, with its 8-inch touch tablet, offers a product that is radically different from its competitors. Rather than focusing on power, the company is targeting the very general public. A surprising positioning but not without qualities.
A compact and versatile format
We can't, as technology fans, be raving about the Fire HD 8. Amazon, to keep the price below $100, has removed all superfluous artifice and offers an LCD screen with a resolution of only 1,200 x 800 pixels, 16 GB of storage and an anemic processor at a frequency of 1.3 GHz and 1.5 GB of RAM.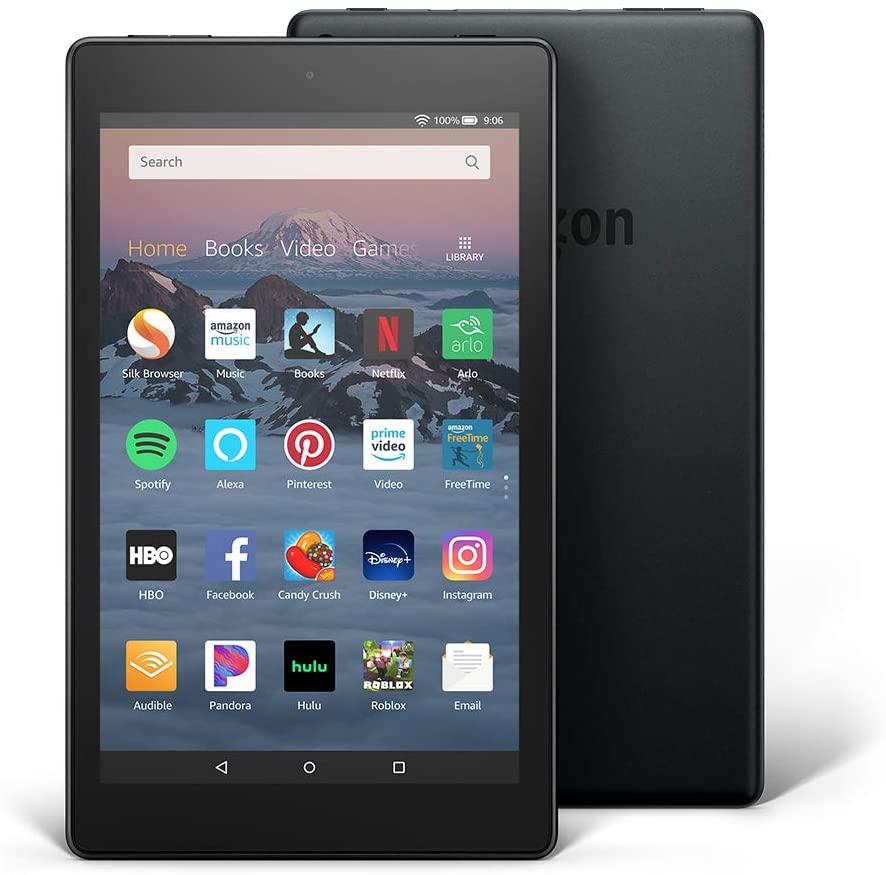 The object is all plastic, except for the glass screen, which also offers good shock resistance and a weight of 363 grams that will be ideal for long reading and web consultation sessions.
A few dozen applications? Enough for the general public
If Amazon uses Android for its Fire HD 8, it's without the Google Play Store and Google services pre-installed by default. Instead, Amazon offers its own app store, and fortunately the majority of the most downloaded online services are present.
Without overwhelming you with a long list of content, just know that Facebook, Twitter, Spotify, Netflix or even Instagram and Plex are available in the store. And of course Amazon offers a whole galaxy of services, such as access to its store or Kindle to buy digital books.
A product tailored for consumption
Surprisingly, while Amazon has deliberately chosen a few entry-level components starting with the screen, both speakers are Dolby Atmos compatible and will allow you to enjoy your favorite series on the go without the need for headphones.
Autonomy is just as sufficient, with 10 hours of versatile use. But don't expect to take photos, with its unique 10-megapixel camera, except for a few extra shots.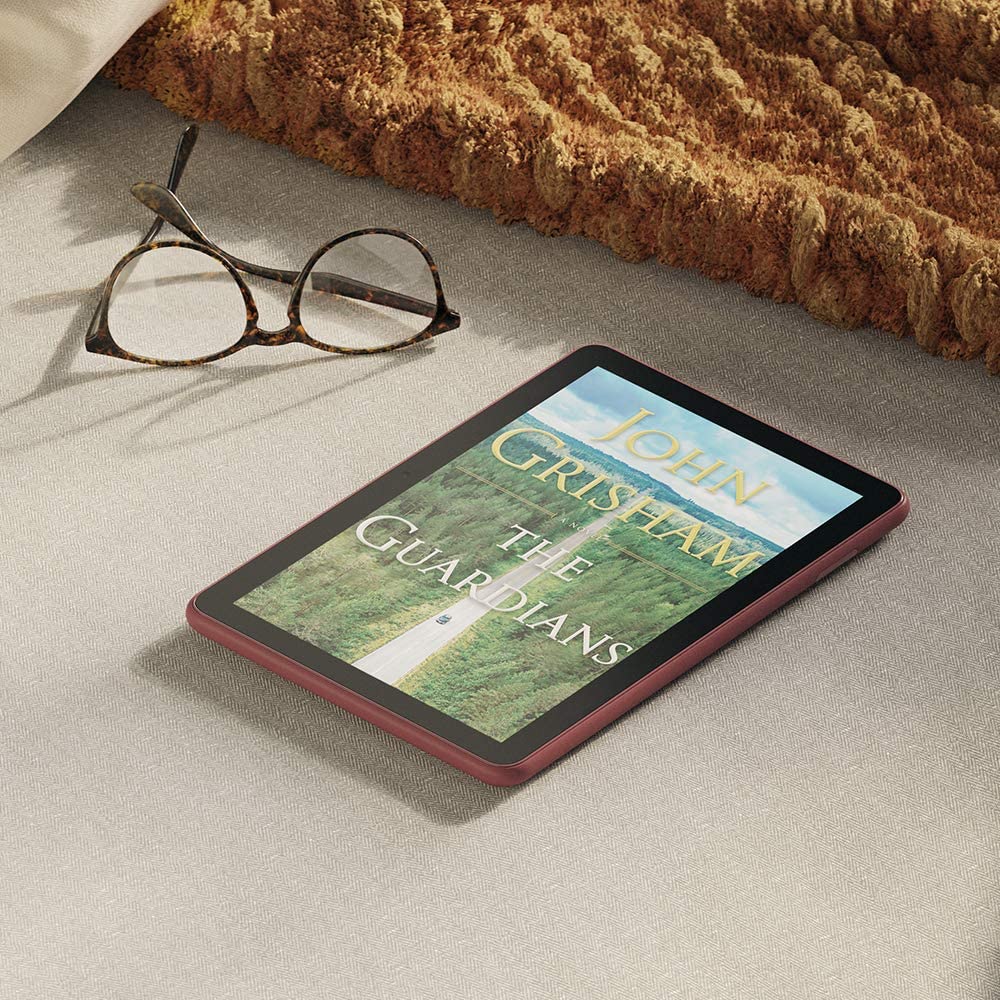 Our opinion about the Amazon Fire HD 8
With its tablet Amazon is trying to convince its very large public. The technical characteristics are below market standards, that's for sure, but it was the concession to be made to offer a floor price of $100.
The Fire HD 8 is an ideal gift for a member of your family who simply wants a device that will allow him or her to consult his or her Facebook feed and watch an episode of his or her current series. While the tablet doesn't promise much, it does it very well.
The Chinese manufacturer has always been a follower of ideas. Far from wanting to follow its competitors, Lenovo is betting with the Smart Tab P10 with a clever concept for use both outdoors and at home.
Lenovo offers a beautiful 10.1-inch Full HD display here. If the object is not the most original or elegant, we must nevertheless note the first originality included by the manufacturer: the home button is not set in portrait mode but in landscape mode.
This simple button placement is essential to the concept of the Smart Tab P10: the screen is designed more for viewing content or displaying information (we'll come back to this later) than for browsing the web. It's a bit unsettling the first time, but you quickly get used to it.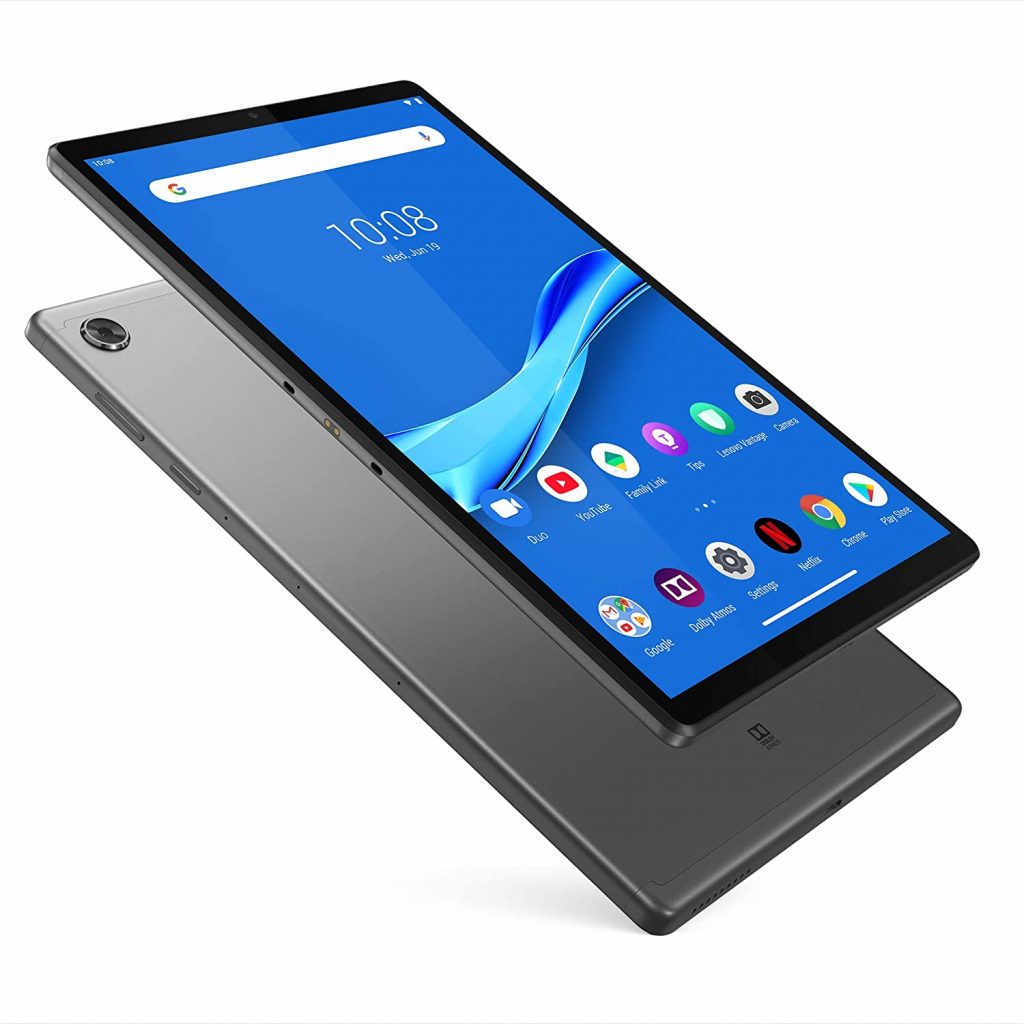 For the rest, Lenovo follows the trend and includes four Dolby Atmos-compatible loudspeakers for quality sound and integrates a fingerprint reader to secure access to different user sessions.
A device at the heart of your home
While Lenovo has not reinvented the wheel for tablet use and offers a device that is perfectly adapted to the most common uses, it is the presence of a station called Smart Dock that appeals.
The accessory integrates Dolby optimized speakers to stream music to your home from any streaming service. The idea is simple, once plugged in your tablet, it becomes a connected screen for making video calls or displaying information throughout the house.
For the greatest galaxy of services and uses, Lenovo chose Amazon Alexa, which enables tens of thousands of Web applications to be used with a single voice command.
The interface automatically activates once the device is plugged in to allow you to watch programs and ask questions. It's very practical and allows you not to leave your tablet carelessly lying around on the coffee table, but to exploit its potential at all times.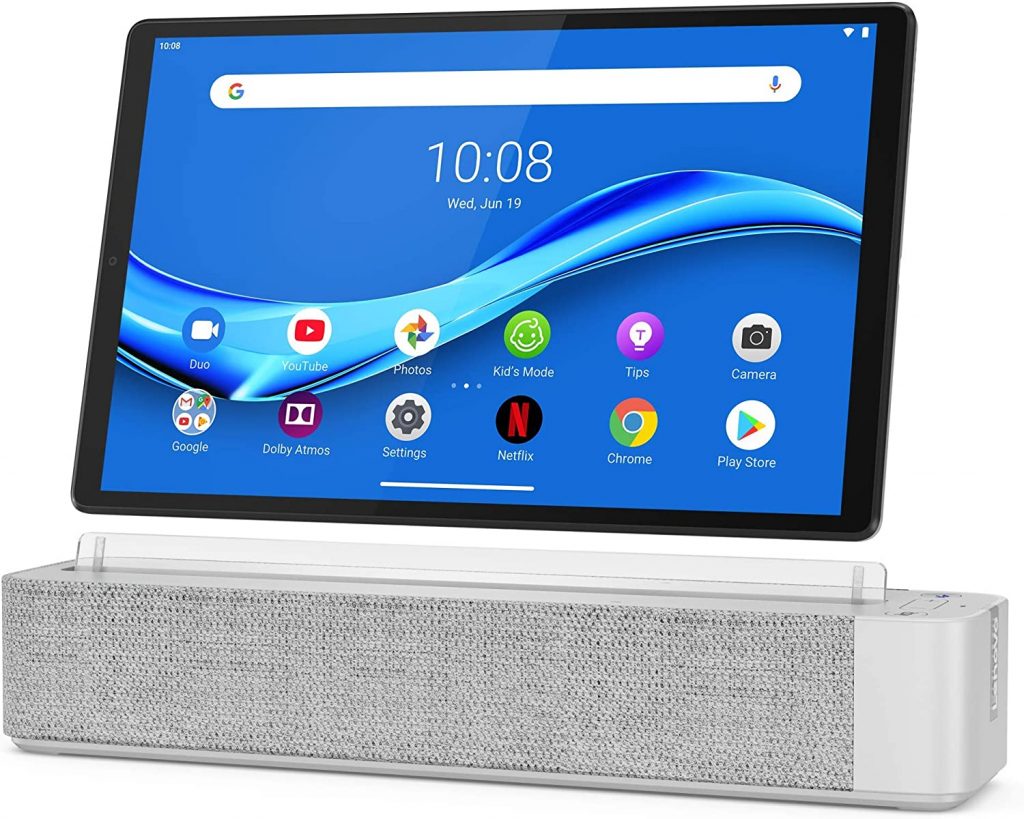 We listed this tablet in our best android tablets list, because for this model, the Chinese manufacturer is returning to the somewhat neglected format of compact tablets, but not in any way. Xiaomi delivers with the Mi Pad 4 a solid product, and very well equipped for all your needs.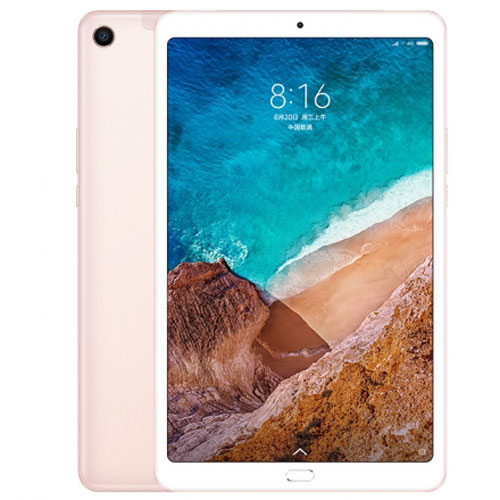 A very attractive small format
With the Mi Pad 4, Xiaomi offers a beautifully crafted device that combines a 7.8-inch glass screen with a very elegant metal back that is not very sensitive to fingerprints. On the connection side, the manufacturer does not deprive itself and integrates a MicroSD port as well as an audio jack port. Recharging is done with a USB-C port.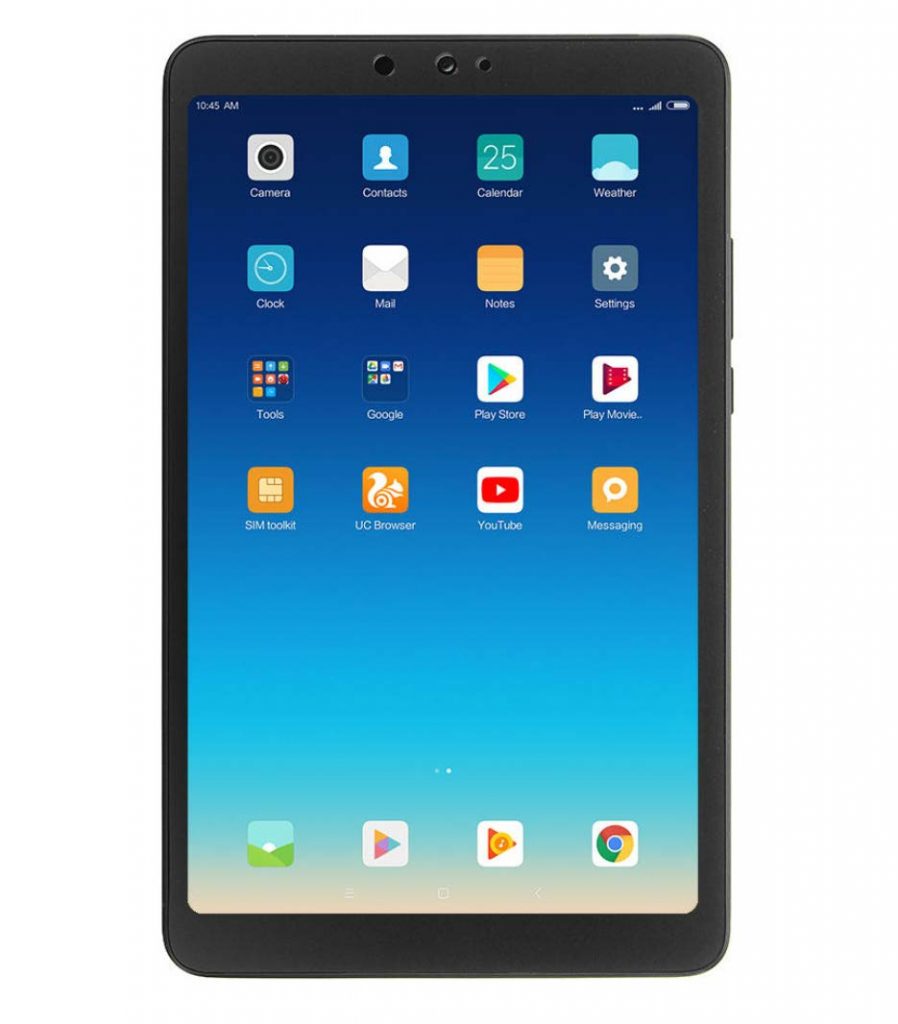 The screen resolution is 1920 x 1200 pixels, in 16:10 format. Xiaomi has thought primarily for video viewing and the screen is ideal for viewing content on streaming sites, without the presence of too much black stripes. The front camera sensor is 5 megapixels, correct without more, compared to the rear lens of 13 megapixels.
A beautiful technical data sheet for entertainment
While the Snapdragon 660 is a SoC that is beginning to take its toll over the years, it is still sufficient for the vast majority of uses offered by this tablet. The processor is supported by 3 GB of RAM to ensure fluidity in the operating system as well as in the various applications.
For storage, Xiaomi offers 32 GB from the outset. This is a bit limited, especially if you download a lot of videos and music on your tablet, but consistent with the starting price of the tablet, around $250 on various online retailers.
If Xiaomi uses Android, it is in a significantly optimized version that fans of the brand know well: MIUI. The manufacturer offers numerous and regular updates to optimize Google's operating system to the maximum.
The software is well optimized for the display surface and offers a nice range of default software to surf the web and consult different content sources. It looks a lot like the iPad OS, that's for sure, but takes up the simplicity of use and the clarity of the interface.
However, the offer is wide, and there are still many manufacturers on the market. To help you make the right choice, we presented this selection of the best Android tablets!