Every year, new models of gaming monitor appear on the market with more and more technological bids. Among them are 4k gamer pc gaming monitor as well as curved pc gaming monitor. Currently, we have opted for a wide selection of 1440p screens to meet the demands of the new graphics cards designed by Nvidia and AMD. You will still find some 1080p models in our selection. Concerning the 4k screens, you will be entitled to a 60 Hz model, but 2021 will be more favorable for models that can go beyond 100 Hz with more attractive prices but above all choice. Faced with this plethora of models, we offer this guide to buying the best pc gaming monitors with a selection of models recognized and balanced.
The best gaming monitor: our Top 10
Buying a gaming screen is not easy. Given the price of such equipment, it is preferable to go for a quality model. Otherwise, you will have eternal regrets. To enjoy an immersive gaming experience, check out our top 10 of the best gaming screens on the market.
1. Samsung Odyssey G7 (32″ 1440p 240Hz VA)
Characteristics and opinions
Here we have one of the best-curved slabs in 32 inches. For those who want a smaller screen, the Samsung Odyssey G7 is also available in 27″. So here we have a curved screen of 1000R perfectly matching the curvature of the human eye. This panel offers a WQHD 2560 x 1440p resolution at 240 Hz and 1 ms response time. Here you have a VA panel to provide just the right compromise between color and speed that surpasses even IPS panels, but the big plus of this display is in the embedded technologies for better compatibility with your graphics cards. Whether you're AMD or Nvidia, there's everything you need for both teams. The Odyssey G7 is G-Sync compatible but also a Free Sync Premium Pro. The icing on the cake, it has the HDR600 technology which is much more significant than the HRD10 which is not certified but still remains anecdotal. On the connectivity side, we find 1 HDMI and 2 Display-Port, 2 USB 3.
2. Viewsonic vx2758-2kp-MHD
Characteristics and opinions
ViewSonic remains a reference in the world of pc displays, recognized for the colorimetric quality of its tiles for professional use. It is not surprising to see this VX2758 directly used without any calibration. With an IPS tile from 27″, we have a resolution of 2560 x 1440 pixels ensuring excellent color and a response time of 1ms according to the manufacturer (actually the latter is higher which is not surprising for an IPS screen) and a maximum refresh rate of 144 Hz. This model will be ideal for those who want a total immersion in their games without necessarily looking for competition and speed in the context of an fps. For its price, you will have Adaptive Sync which will make your Nvidia graphic cards that require G-Sync work without any problem. Very bright or too bright according to some, it is possible that you have light leaks, which is redundant on IPS tiles. This screen has 1 display port, 2 HDMI but also 2 small integrated speakers of 2.5 watts!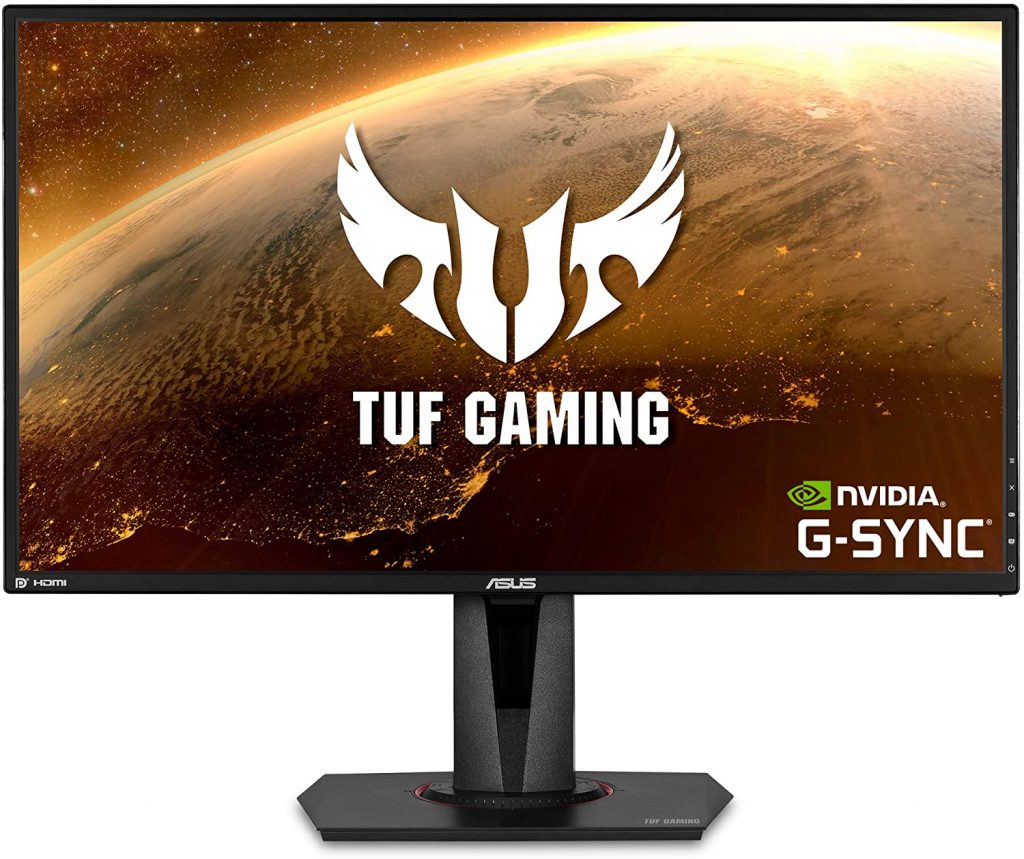 Characteristics and opinions
If you're looking for a 27″ display in WQHD 1440p, fast with excellent color then the Asus TUF VG27AQ is the best option for a great value. Its IPS panel provides excellent color rendering while still ensuring a response time of 1ms (up to 0.4ms according to Asus), which is normally not the strong point of this type of display. The TUF also ensures a refresh rate of 165Hz for even more fluidity and for those who care about good compatibility with their graphics card, this panel is G-Sync and Adaptive-Sync compatible. The VG27AQ also has the HDR10 standard. Concerning the connections, we stay on 2 Hdmi 2.0 and 1 Display Port 1.2. In short, an excellent gaming display for those who do not want to compromise!
Characteristics and opinions
Recognized as one of the best pc gaming monitor manufacturers in terms of quality/price ratio AOC offers us the best choice in terms of a curved screen 32 inches at a low price. Moreover, this model is one of the bestsellers in its category. The AOC CQ32G1 is a 2K WQHD curved screen (2560×1440 pixels) of 32 inches. Its VA panel ensures a good color rendering and a response time of 1ms in addition to the scanning frequency at 144 Hz. On the connection side, we regret the presence of only one HDMI 2.0 socket and we also find the Display Port 1.4. The curvature of 1800R is less aggressive than other models and goes very well with the size of the monitor. Techno level, considering the price, there is no G-Sync chip but you have Free-Sync for AMD. Even without G-Sync, this screen is widely used with a GeForce, so for us, it's yes for Nvidia owners who want to save money.
5. LG UltraGear 32GK650F-B
Characteristics and opinions
If you're looking for a 32″ VA screen that's not curved with a flat price, the LG UtraGear 32GK650F is for you. This 1440p QHD display delivers a 1ms response rate at 144Hz refresh rate. FreeSync compatible, you will also be able to connect a PC with a GeForce. Concerning the connections, we have 2 HDMI and 1 Display Port. The screen is adjustable in height, vertically. No HDR for this price but good image quality in general. If you want a flat screen for less than 300 euros (often available at this price) then do not hesitate. It's a good choice if you want 32 inches with some small sacrifices!
Characteristics and opinions
If you are looking for a 24 inch Full Hd (1080p) screen with excellent colors, made for gaming so responsive the AOC 24G2 is the screen for you. Its IPs panel ensures superb colors and its response time of 1 millisecond will satisfy players looking for performance. Of course on this point, a TN panel will always remain superior but at the sacrifice of many other points. In the meantime, the 24G2 ensures a maximum refresh rate of 144 Hz. You will be entitled to 2 HDMI 1.4, 1 VGA, and 1 Display Port 1.2. This panel is compatible with Free-Sync Premium and can accept G-Sync. The screen can also be tilted vertically. Some will tell you that this is the best display in its category for the price and others will complain about defects from the first use due to problems on the panel (IPS Glow, or dead pixels). In short, a screen that does not leave indifferent those who just want a Full HD panel.
7. Alienware AW3418DW: quality screen, design and speed
Characteristics and opinions
This model offers a futuristic and minimalist look made of angular lines and a quality metallic finish. Compared to aggressively designed products, this equipment is less conspicuous. Note that the major area of the screen uses the Dell Infinity Edge design for optimal viewing without glasses, despite the screen's 11-millimeter wide edges. Incorporating a 34-inch IPS panel with 3440 x 1440 resolution, the refresh rate is 120 Hz. The response time is 4ms.
This product stands out thanks to its very good reactivity for an IPS model and its connectors are very well positioned. However, there are a few drawbacks, such as the lack of contrast and optimizable factory calibration, which should be of interest to players and enthusiasts of the brand. In the end, we recommend this gaming monitor with a more contrasted and perfectly calibrated panel.
8. BenQ EL2870U: Ultra-realistic video quality with HDR
Characteristics and opinions
With a screen diagonal of 70.9 cm and a ratio of 1.77:1, this model is in the large format category. This gaming monitor ensures an incredible image sharpness. The presence of BenQ's exclusive B.I.+ sensor offers an optimal viewing experience designed for great visual comfort. You will be able to adjust the brightness and color temperature to optimize your gaming performance, even if the HDR mode is unconvincing. On the connectivity side, you can count on one DP 1.4 port and two HDMI 2.0 ports.
This PC monitor has a good resolution of 3840 x 2160p. It offers an image quality that rivals the competition. The BenQ EL2870U ranks 5th in our ranking, with an impressive number of colors and a diagonal of 70.9cm. In order to enjoy HD and 4K content, this model is perfect and suitable for all uses.
9. BenQ ZOWIE XL2546: total immersion and DyAC technology
Characteristics and opinions
This equipment has been thought totally for gaming: a flawless reactivity, a refresh rate up to 240 Hz, an ideal color adjustment for gaming but also a very good luminosity. It is also possible to pre-record "profiles" and switch easily from one to the other. In addition, take into account that 240 Hz is the overkill limit. That's why you must make sure you have the computer running behind it since you will have to run on 240 Fps. Another undeniable advantage is the possibility to set the screen according to your needs: tilt, height, swivel as well as rotation.
This model with a resolution of 1920 x 1080 is in any case an excellent monitor. Offering a very good image quality, you will enjoy with this product 16777216 colors present on the panel, as well as a diagonal of 62.23 cm. This equipment has a lot of positive features and so it will be ideal to practice gaming or watching movies in HD, with optimal visual comfort.
10. LG 29UM69G: high-performance 29-inch 21:9 format monitor
Characteristics and opinions
This 21:9 format model may seem rather strange at first glance. However, the practicality is there since you can simultaneously view different windows and open various pages by putting them side by side. The LG has a robust coating while its surface has an excellent anti-reflection treatment. With 178 degrees on and vertical, you get the widest viewing angle on the market.
Shaped with a TFT IPS panel, this model benefits from qualitative LED backlighting. Displaying a response time of 5 milliseconds, the resulting images have a qualitative resolution of 2560 x 1080 pixels with a refresh rate of 60Hz. This model really has all the desired qualities of a gaming monitor. What some components lack in quality is optimized by an efficient technology that erases these few weak points. Thus, it is understandable that the price is quite high, but it is nevertheless fair. We recommend this model.
In order not to make a mistake in buying the best pc gaming monitor, you will have to review several essential criteria and especially take into account your needs and your budget. Take a product from our TOP 10 to be sure to buy a quality screen: MSI OPTIX MAG271C to MSI OPTIX MAG241C. If you don't find what you're looking for, take into account the guide's purchase criteria: size, definition (Full HD, 2k, 4K), type of panel, response time, refresh rate, etc.