After 6 hours of research and analysis of 20 currently popular models on the market, we've concluded that the Shure PS-6 Popper Stopper is the best pop filter on the market.
This model has a good filtration capacity and its diameter allows great freedom of movement.
Our choice, Shure PS-6 Popper Stopper: Best mid-range
This model allows a reduction of plosive consonants from 20 dB to 30 dB. It also filters fricative consonants around 3 dB in the low frequencies. It is very good for everyday use such as streaming, and is a good start for singers.
For those with a lower voice, however, you can turn to other pop filters because the Shure PS-6 Popper Stopper primarily blocks high frequencies. The 15 cm diameter of the Shure PS-6 Popper Stopper allows for a wide range of movement.
It's relatively easy to install, but be sure to inspect its clip to make sure it snaps onto your mic. However, it's not really ideal for use on a desk.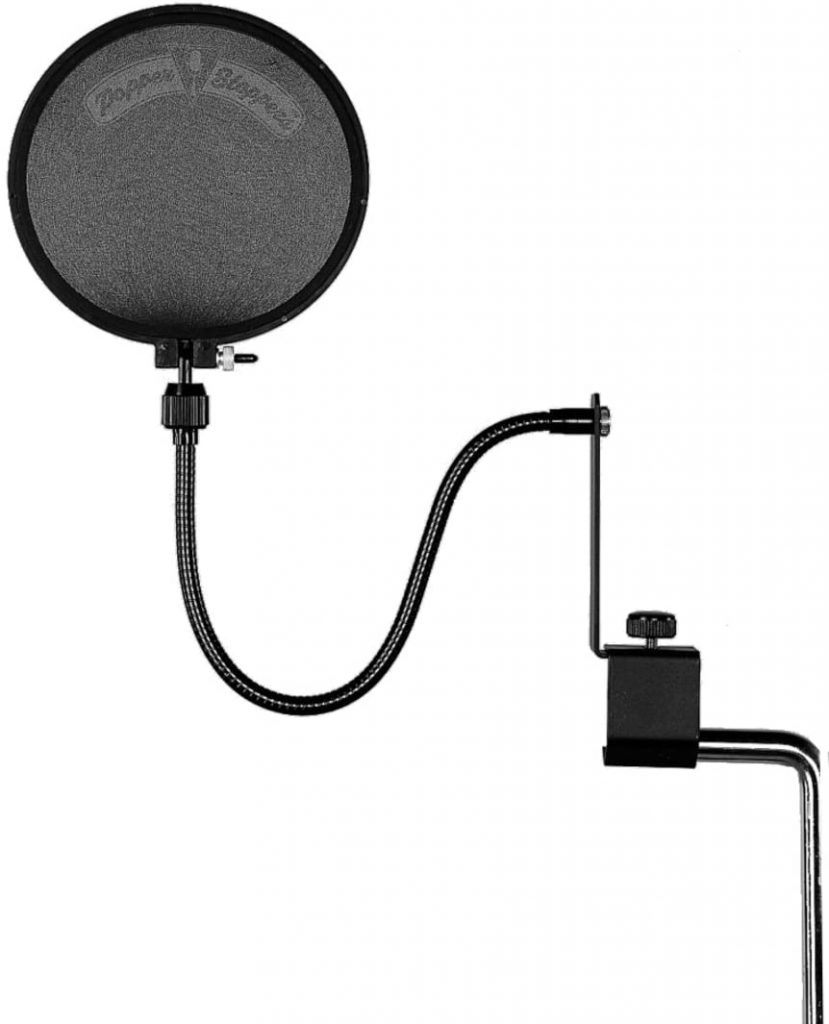 Its users like the effective attenuation it offers for particularly loud and aggressive voices, for styles such as metal. It is aimed at streamers and singers who are looking for a good filter from a recognized brand.
Neewer NW(B-3) Pop Filter: Best value for money
This particularly affordable nylon model has the particularity of offering a double layer. The first layer slows down the air of the plosive and fricative sounds, while the second layer filters them even more. However, the manufacturer does not give any technical details on the frequencies or decibels slowed down by this filter, but it remains effective according to the users.
The gooseneck of this model can be adjusted to 360°. The installation of the pop filter, on the other hand, is rather capricious. It is the most difficult model to fix.
For a small budget, the Neewer NW(B-3) remains a good choice as a first equipment to filter the unpleasant noises of your voice.
JZ Microphones JZ Pop Filter: Best high-end
This metal model stands out from the crowd by offering a wave-shaped filter that promises to reduce reverberation and plosive and fricative consonants. We regret for the price that this singular design is installed on such a small filter: its diameter is thus 9.5 cm.
Users say they like the fact that this model allows them to use less editing on their voice when recording in the studio. It correctly reproduces voice details without loss in frequencies, and no breath is heard.
Its claw is designed to attach to microphone arms or a desk. However, it's not as flexible as the rest of the competition, and its design forces you to sing in the center of the filter for optimum effect.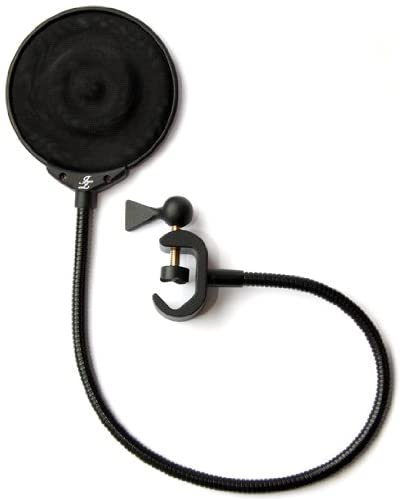 Considering its price, it is a model to be reserved for advanced singers. In spite of a perfectible design, it remains the most efficient of our selection in terms of sound processing.
At the present time, no pop filter available on the market seemed to us to have the necessary qualities to appear alongside our main selection. We will not fail to offer you interesting alternatives as soon as we become aware of them.