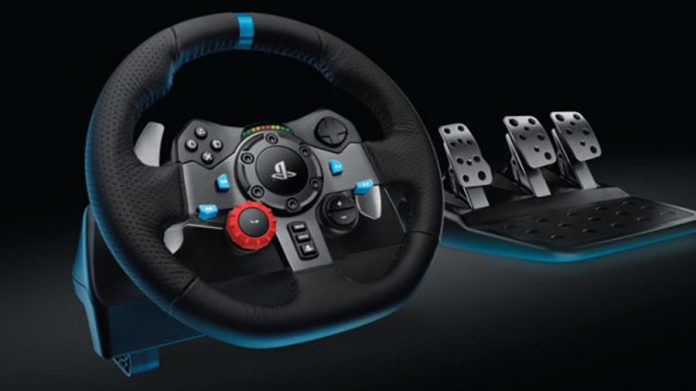 Racing games have existed since the dawn of time on our PCs, consoles, and even arcade terminals. This is one of the favorite genres of gamers, which often aims to be accessible and sometimes complex, accurate, and realistic. But how about discovering a new dimension, simply by simulating real driving? That's what PC steering wheels are designed for: a wheel, pedals, and sometimes even a gearbox to push the immersion even further. Are you looking for a PC Euro Truck Simulator 2 steering wheel, for example? Do you know that a simple controller is not enough for these games? Come with us, we'll take you aboard our selection.
Top 5 Best PC Steering Wheels
The shuttlecocks to play on the computer may look a little bit all the same at first glance, making the choice probably very complicated. But this is obviously not the case, many elements have to be taken into account, ranging from the overall quality to the possibility of correctly adjusting each detail through, the software delivered with the product. We will explore this top 5 together to discover the best PC steering wheel.
1. Logitech G29 Driving Force, the best value for money
Characteristics and opinions
Directly succeeding the G27 model, this Logitech G29 PC steering wheel offers a well-made evolution, while obviously keeping the strong points of its predecessor. Released a few years ago now, its great qualities blend with its lower price than ever. It can be used on PlayStation 3, PlayStation 4, and of course PC, or even Xbox One for the dedicated version, this steering wheel comes with a set of three pedals, allowing you to rediscover real driving sensations, even when shifting gears. You won't waste time looking for your keys, since most of them are located in front of the steering wheel, allowing you to be completely immersed in the game.
The experience you'll get will be realistic, but also very comfortable since, the steering wheel is covered with leather and some parts are made entirely of metal. Its dual-engine force feedback with a 900° locking system has been designed to be powerful, although sometimes a little dry, and allows you to be turned up to two, and a half times as Ferrari F1 racing cars can offer.
2. Hori Apex Racing Wheel, the best at low price
Characteristics and opinions
This Hori steering wheel, offered by an accessory dealer rather than used to arcade joysticks or sticks, easily wins our prize for the best steering wheel at a low price. Overall, the steering wheel is very classic: a few touches of color here and there and matte black everywhere else. But it is precisely the use of this matte black that makes, the steering wheel-less cheap than its price might suggest. The bottom bracket is visually in line with the wheel and the base, since here too a matte black material was used. It is more precisely rubber, allowing a certain amount of grip for the feet.
Everything is very well thought out, the buttons are well placed, the paddles react well and the pedals (there are only two here) have adjustable sensitivity, allowing us to adapt the sensations to our driving habits. The only elements that can work against this steering wheel are the lack of vibration and force feedback. But again, keep in mind that this steering wheel is very affordable and does not skimp on overall quality. Finally, the flywheel is fixed with a set of suction cups. We know the advantages and disadvantages of such a system: it holds well, but it is difficult to remove.
3. TS-PC RACER Ferrari 488 Challenge Edition, the top of the range
Characteristics and opinions
Born from the association between Thrustmaster and Ferrari, this TS-PC RACER Ferrari 488 Challenge Edition wins, the prize for the best top of our top. The base of the steering wheel is made of plastic and metal, with a heat dissipation system of the most beautiful effect and silent, with very racing lines. The 40W engines offer pleasant and very fluid racing sensations, with real top-of-the-range sensations.
The wheel on its side is a replica of, the Ferrari 488 GTB steering wheel with a magnificent Alcantara coating, like that of the authentic Ferrari steering wheels. The buttons are very well placed and work very well in racing, so the high quality makes its little effect. The whole thing offers very pleasant sensations, both in the coating and in the solidity and realism, which prevents from being confronted with that toy effect that some wheels can give. A small bonus, the engine speed can be displayed on the front of the wheel with an LED system, just ask to install a small additional software on your PC
4. Thrustmaster TS-PC Racer
Characteristics and opinions
We are probably dealing here with the most amazing driver of our selection, but who obviously brings his own style, that could make the difference for some of you. The Thrustmaster TS-PC Racer is a high-end steering, wheel offering above all a remarkable manufacturing quality, and carefully selected neon colors. No doubt inspired by single-seaters, this new wheel is light, very precise, and above all responsive, creating an experience that is pleasant, to say the least. Its two rear paddles are easy to reach and have a kind of clear haptic feedback. Be careful not to use it with just any game, the shape can't be suitable in all cases.
Inside the beast is a powerful 40W motor with integrated cooling and a new high-efficiency turbo power supply. All this makes it possible to have a fast flywheel, and a certain power even at high-speed thanks to its dynamic torque.
5. Thrustmaster TX Racing Wheel Edition en cuir
Characteristics and opinions
We are dealing here with Thrustmaster's TX Racing in a more high-end version, better finished, and, above all, in a leather version. Officially PC and Xbox One compatible, this steering wheel have very complete PC drivers, allowing you to make fairly precise adjustments to improve the experience. The steering wheel is equipped with a leather wheel, the TM Leather 28 GT Wheel, which can be purchased separately, of very good general quality that corrects some defects of the model used as a base. The buttons give this time confidence, the quality of manufacture breathes the top of the range and the coating is very pleasant to handle. The sensation of force feedback is also well thought out, with certain power and above all an excellent reactivity.
The T3PA three-pedal T3PA crankset, which can also be purchased separately, is like the icing on the cake of this quality cake. This Thrustmaster TX Racing Wheel Leather Edition steering wheel is without a doubt one of, the best currently offered on Xbox One and PC, for such a price.