The question I often hear when talking about the connected weather station, also called "smart" is: "Why not just look outside?"  The answer is simple: get as much local weather information as possible. This type of weather station keeps an eye on the weather conditions where it is located. They are also equipped with sensors that can track rainfall, wind, air pressure and even UV levels in real time. But most importantly, they allow us to exploit this data, which is of particular interest to us in home automation. To do this, you have to choose your weather station correctly, as there are plenty of them on the market today.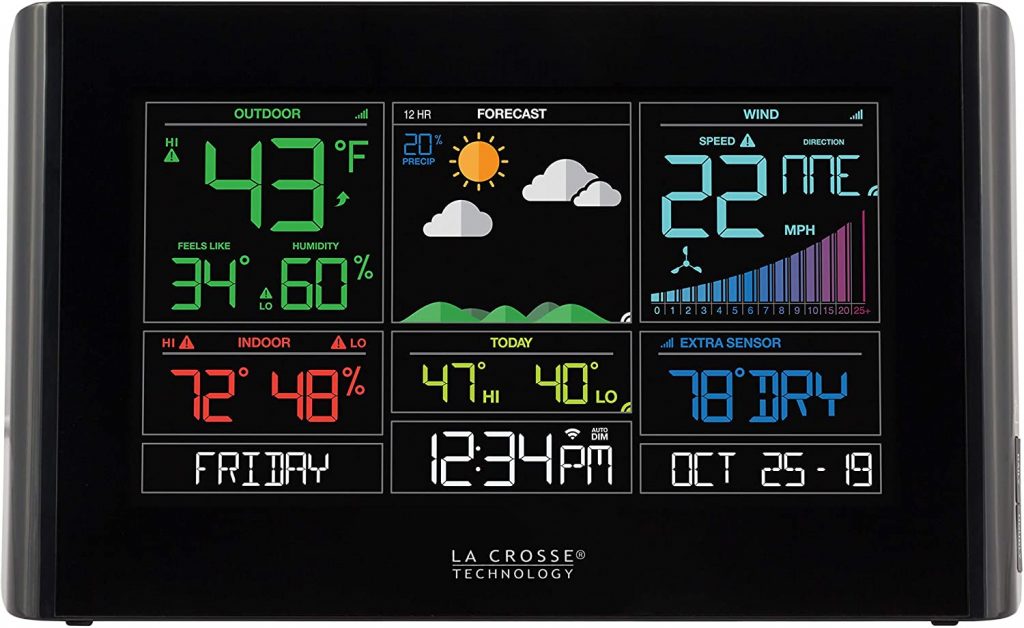 These weather stations don't just collect this data for fun: they can use it to generate customized forecasts based on your exact location, among other things. Many "connected" weather stations also work in tandem with other connected products, which means that you can, for example, turn on lights and adjust the thermostat according to local conditions. They can also control web-connected garden sprinklers and lawn irrigation systems. Even if you don't need hyper-local weather information as such, you can still make good use of it by combining it with other devices in your home.
Important data for the connected home
Think of a smart weather station as a set of new senses for your home. A basic system typically measures outdoor temperature, humidity and air pressure. Often it will tell you when it starts to rain, and more advanced systems will also have the ability to measure the amount of rain.
High-end weather instruments can also sample wind conditions, including wind speed and direction. Similarly, using UV light and solar radiation sensors, some weather stations can detect when the sun is shining and how bright it is.
What a connected weather station can do for you
Large fluctuations in temperature can cause problems for your home. An intelligent weather station will broadcast alerts via a mobile application when it detects extreme heat or cold. Know when a cold spell causes the temperature to drop below the freezing point. Temperatures below freezing can cause pipes to freeze or even burst. For example, severe cold alerts signal the right time to turn off outdoor taps for the winter.
The same applies when outdoor conditions become too hot. This will help you decide when it's time to shelter sensitive pets or plants indoors. Your landscaping can also succumb to summer temperatures. A well-timed alert could help your plants withstand the lingering midday heat with an early morning spray of cooling mist for leaves.
Winds and thunderstormes alerts
High winds and thunderstorms are also dangerous. Do not let the deployed parasols fly off the garden terrace. Receive alerts in case of strong wind gusts so you know when to secure outdoor furniture.
Traditional weather applications are perfect for general information. But to view localized weather data and forecasts, only a personal weather station will do. A connected weather station can then share its data with other users. This is what Netatmo allows with its WeatherMap: if the user wishes, he can allow sharing of his weather records, allowing users to view the local weather in any corner of the world (or even at home, if his neighbor has a connected weather station, for example).
Why a personal weather station?
Many weather applications get their information from a single location, such as a park near the city center or an airport. If the nearest of these sites is tens of kilometers away from your home, a personal weather station will be more accurate. Weather Underground, which can also retrieve information from connected weather stations, claims to draw data from more than 250,000 personal weather stations. This allows it to improve the accuracy of all its forecasts.
Automate the interior of the house
An intelligent weather station should not only control the outside. It can also control things inside your home. When your station detects rain, you can turn on your lights. Conversely, when clouds dissipate and the sun begins to shine, your weather station can dim the lights, raise the blinds, and so on.
Activate your Smart Thermostat
If the connected weather station can communicate with other devices (or through IFTTT), you can activate your Smart Thermostat when the indoor humidity or temperature triggers it. This is a good way to extend the range of your thermostat's sensors and increase indoor comfort.
Watering according to the weather
A high-performance weather station can help you water your plants and lawn more efficiently. Use daily reports of actual total rainfall to decide if you can skip a day of irrigation. An intelligent weather system will even automatically communicate with connected irrigation systems. For example, a connected weather station can turn off the smart sprinklers when it detects rain.
Create interactions between your smart devices
Some products are compatible with the IFTTT (If This Then That) platform. This integration then makes it possible to create many interactions between the products of the smart home.
Manage the watering, open the shutters to let the sun in, close the awning when the wind points its nose, etc. Many actions are possible thanks to the data collected by the connected weather station.
Connected weather station: More than a simple weather device!
As we can see, a connected weather station goes much further than just telling you if it's sunny or not outside. It provides accurate and very important data that can be useful for other equipment in the connected home. A classic weather station will be able to bring you this data, but will not be able to communicate it to other equipment. This is the added value of a connected weather station!
La Crosse Technology S82950-INT WiFi Professional Weather Station.
AcuRite Smart Weather Station with Remote Monitoring Compatible with Amazon Alexa (01012M), Internet Connected.
Netatmo Weather Station Indoor Outdoor with Wireless Outdoor Sensor – Compatible with Amazon Alexa & Apple HomeKit.